KhmerPost Holiday Party Fundraised over $2,000 for the Southeast Asian Scholarship Fund for Journalism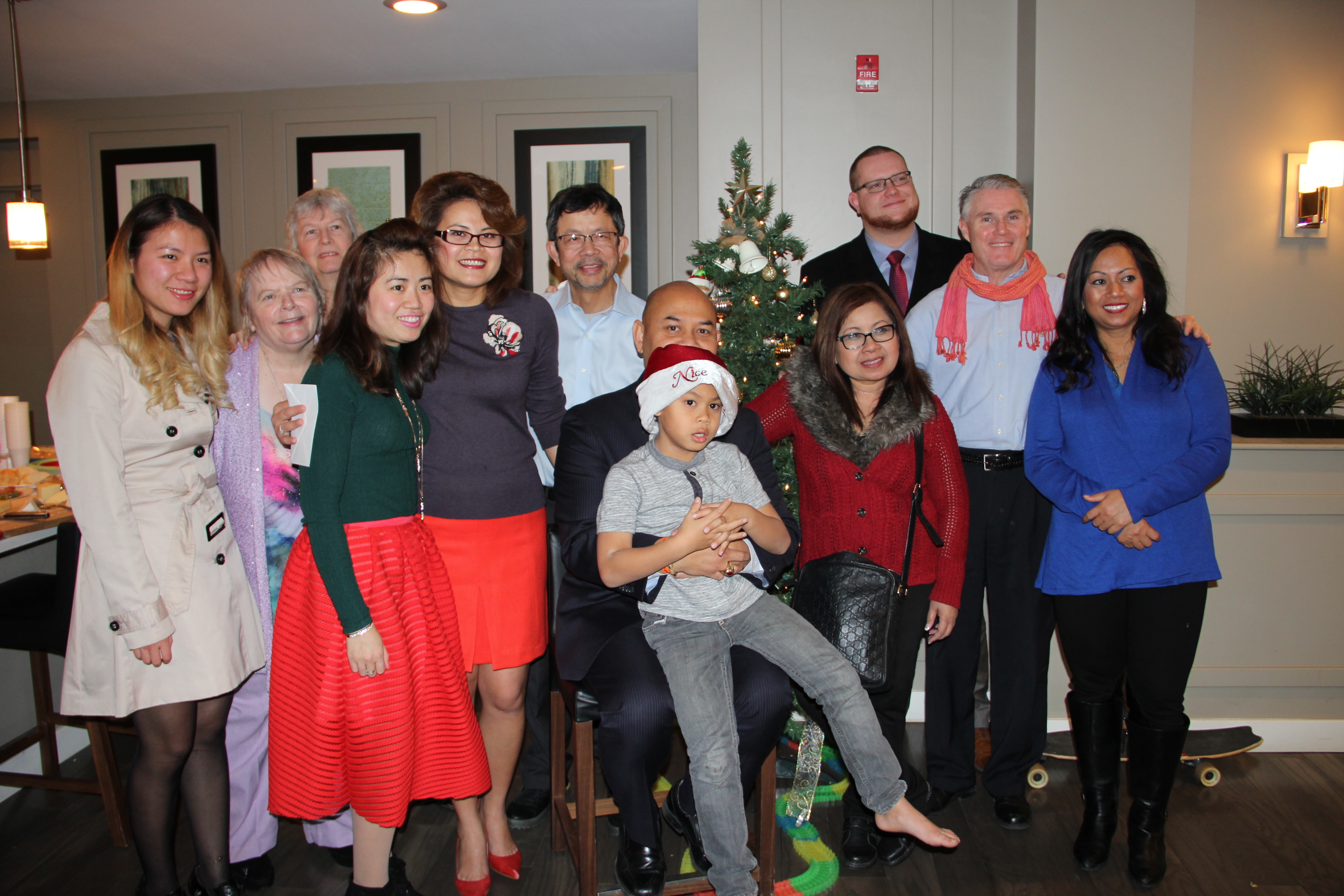 On December 22, 2016 at the KhmerPost Holiday Party – I was pleased to announce the launch of a fundraising campaign for the Southeast Asian Scholarship Fund for Journalism. I like to thank you our friends and neighbors for showing their generous supports and the trust they've put in me. I like to thank Roger, my husband, for his endless support. This year is a special year as it marks the 10th anniversary of the KhmerPost USA. To commemorate this historic year, there is no better way than to establish this scholarship endowment for the future generation who has the inspiration to study in the field of journalism. We believe it is the best gift for someone, every year, will receive a monetary support to pursue their dreams.
Many of you know me and my work. You are partners of the KhmerPost and friends. You probably know that I studied journalism and made a commitment to providing information to the Khmer community in Greater Lowell and beyond. I've also worked very hard to provide a fair and balanced voice on behalf of our community. What you may not know is that I made a promise many years ago to give back to others.
I attended college at Penn State and I received a scholarship to help me with the cost of education. While in college, I embraced Khmer culture and became deeply involved in cultural and charitable causes in Philadelphia's large Cambodian community. I also met and married my husband Roger. Together, we launched the KhmerPost USA. The scholarship I received had a tremendous impact on me, my studies, and my career. I made a promise to give back to other students in the future.
Our fundraising goal is $5,000 to create a scholarship endowment here in Lowell for students at Lowell High School. Many students at Lowell High School work hard, excel at academics, athletics, community volunteerism, but are not equipped to handle the costs of higher education. Over half, 53%, of students who applied for scholarships at Lowell High School last year were the first in their families to attend college. Despite their hard work they don't have the means to support the cost of college and family at home familiar with the complex college and financial aid application process.
Last, year the Greater Lowell Community Foundation and Lowell High School provided over $420,000 in scholarships to 240 graduating students. These students, and their families, were so grateful not only for the financial support, but the fact that someone believed in their hard work and perseverance. While these numbers might seem great there are many more students who need support.
The Southeast Asian Scholarship Fund for Journalism will help meet this need. It will assist a young person who wants to make a difference in the world through the study of journalism and who has demonstrated a commitment to community service. Because it will be endowed at the Community Foundation it will impact countless generations of students to come. Roger and I have committed $1,000 to this scholarship. I like to thank KhmerPost USA partners and friends for your generous supports at our kick-off fundraising party. Together we've raised $2,105.00.
I ask that you join me and make a holiday gift to this scholarship fund. This scholarship will encourage young people who have a passion to improve the world through their work. You can help further our cause by making the donation by check payable to KhmerPost USA and mail to 45 Merrimack St. Ste 218A. Lowell, MA 01852 or calling 978-677-7163 to donate by debit or credit cards. Thank You.
Soben Pin, Co-founder and Managing Partner of KhmerPost USA.