ARTSEMERSON WELCOMES BANGSOKOL: A REQUIEM FOR CAMBODIA TWO PERFORMANCES ONLY | DECEMBER 19 and 20, 2017 EMERSON PARAMOUNT CENTER'S ROBERT J. ORCHARD STAGE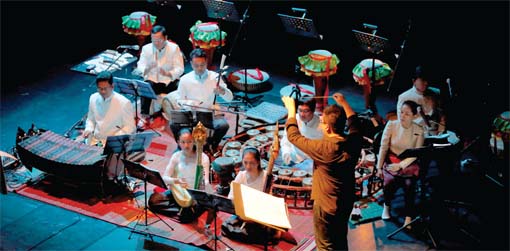 Boston, MA—ArtsEmerson, Boston's leading presenter of contemporary world theatre, proudly welcomes Bangsokol: A Requiem for Cambodia—for two performances only — a collaboration by Rithy Panh and Him Sophy, survivors of the Khmer Rouge,that fuses music, film, voice and movement to address the traumas that occurred in Cambodia.Performances take place December 19 and 20, 2017 at the Emerson Paramount Center's Robert J. Orchard Stage, located at 559 Washington Street in Downtown Boston. Tickets range from $20-90, and may be purchased online at
www.ArtsEmerson.org, by phone at 617.824.8400, or in person at the box office.Student, senior and group discounts are available.
Bangsokol: A Requiem for Cambodia is an extraordinary new composition fusing music, film, voice and movement. It is the first major symphonic work that addresses the traumas that occurred in Cambodia in the late seventies, and is the first collaboration between the Oscar-nominated director Rithy Panh and lauded composer Him Sophy — both survivors of the Khmer Rouge and now at the forefront of Cambodia's cultural renaissance. Anchored in "bangsokol" — a ritual for the dead or soon to be deceased — the performance intertwines traditional Khmer instruments with The Metropolis Ensemble orchestra and the Taipei Philharmonic Chamber Choir. All together, they create something innately Cambodian but relatable to audiences everywhere.


Bangsokol is an act of cultural renewal, aiming to return the arts to their place at the heart of Cambodian society. While the world continues to witness new genocides, wars and destruction, Bangsokol urges us to express our scars from the past in order to forge a new path forward. Click here to view the Bangsokol: Requiem for Cambodia video trailer: https://youtube/DnDkggmSFEA
Bangsokol: A Requiem for Cambodia Creative Credits
Filmmaker & Director Rithy Panh
Composer Him Sophy
Music Director/Composer Andrew Cyr
Libretto Trent Walker
Set Designer Rithy Panh
Costume Designer Romyda Keth
Staging Director Gideon Obarzanek
Concept Charlie Todd
Vocal soloists Chhorn Sam Ath & Him Savy
Cambodian Ensemble Keo Dorivan, Keo Sonankavei, Keo Sophy, Pov Reaksmeymony,
 Say Tola, Sngoun Kavei Serey Roth
Ensemble Metropolis Ensemble
Choir Taipei Philharmonic Chamber Choir
Performer Sodhachivy (Belle) Chumvan
Original Idea Charley Todd
Commissioner Cambodian Living Arts
Producer THE OFFICE performing arts + film
Musically developed in collaboration with Metropolis Ensemble
Bangsokol: A Requiem for Cambodia Performance Schedule
Tuesday, December 19, 2017 7:30pm Press Performance
Wednesday, December 20, 2017 7:30pm
About Filmmaker and Director Rithy PanhRithy PANH, named Asian Filmmaker of the Year by the Busan International Film Festival in 2013, is an internationally and critically acclaimed Cambodian documentary director and screenwriter who received his formal education at the Institute for High Cinematographic Studies in Paris. He is the first Cambodian filmmaker ever to be nominated for an Oscar—for The Missing Picture in 2013. In the same year he received a prize in the "Un Certain Regard" category at the Cannes Festival. He has also directed many documentaries, including S-21: The Khmer Rouge Killing Machine, for which he was awarded the prestigious Albert Londres Prize in 2004. Most recently, he worked as producer for Angelina Jolie's film First They Killed My Father, which is due to be released in 2017.

About Composer Him Sophy
Trained at the Moscow Conservatory of Music as well as the Royal University of Fine Arts in Phnom Penh, Dr. HIM Sophy brings a unique perspective to Bangsokol. His previous works, including the acclaimed rock opera Where Elephants Weep, have demonstrated an unparalleled facility for bringing Western and Khmer musical worlds into intimate conversation. This time, he combines a Western chamber orchestra and chorus with Khmer instrumentalists and vocalists. The traditional Khmer musical forms  represented include several endangered forms of funeral music, such as kong skor, smot, and pin peat. These traditional musical forms are crucial for honoring the dead; unfortunately, live performances are seldom heard in the capital and rapidly disappearing in the countryside.