5th Annual KhmerPost USA Media & Community Gala
Please join us for an evening of warm welcome the Honorable Judge Meng H. Lim of Superior Court, West Georgia, in order to celebrate the Asian/Pacific American Heritage Month. The Gala agenda includes speaking and multi-cultural performances from 6:30-8:30, followed by a sit-down dinner with social and cultural dancing and a live band from 8:30 to midnight.  More than 300 people as well as many elected officials attended last year's Gala. Please consider joining us as a sponsor.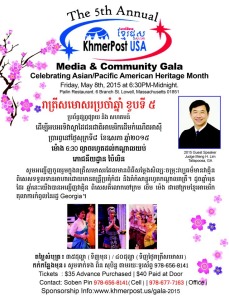 Tickets: $35 Advanced Purchase | $40 Paid at Door
Online ticket: www.MKtix.com/kp
Attire: Evening/Formal
When: Friday, May 8th, 2015 from 6:30-Midnight
Where:  Pailin Restaurant. 6 Branch St.
Lowell, Massachusetts
RSVP: Soben Pin at 978-656-8141
Email: sobenpin@khmerpostusa.com
For sponsorship levels and benefits – Click Here
To Sponsor an ad in Programbook – Click Here
Notes: There will be no tickets sold at the door. Please purchase your ticket(s) prior to May 1st in order to receive the discount price at $35 per ticket. After May 1st, it will be $40 per ticket. Please send us your name and your parties by May 1st for advance registration so we can better serve you!
Thank you to our event sponsors:
GOLD:

Remedium Pharmacy
SILVER:



BRONZE: