6th Annual KhmerPost USA Media & Community Gala
You are cordially invited to join the KhmerPost USA 6th Annual Media & Community Gala, an Asian Pacific American Heritage event on Friday, May 20th, 2016.  It will be held at the Sompao Meas Hall, 450 Chelmsford St. Lowell, Massachusetts from 6PM-10PM.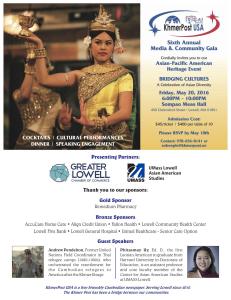 This year, we are pleased to partner with the Greater Lowell Chamber of Commerce and UMASS Lowell Center of the Asian American Studies. Our goal is to raise the awareness of the diversity of the Asian-American cultures here in the Lowell community and beyond. The evening will include Asian cultural performances, followed by a sit-down dinner and cocktail hours. Speaking engagement will begin at 7:30pm, and the program will end promptly at 10pm. Last year, we were pleased to have over 300 people attend to our Gala event.
The admission: $45/Person, Table of Ten $400. Please send RSVP to Sokha Heng at info"khmerpostusa.com or call our office at 978-677-7163.