29th Anniversary Paris Peace Agreement Commemoration to be held (worldwide) online on October 23rd – 24th, 2020
A group of Cambodian civil society organizations have joined together to hold a commemoration of the 29th Anniversary of the 1991 Paris Peace Agreement on Friday October 23rd and Saturday 24th, 2020.
After years of conflict, 3 million loss of life, and 14 years of foreign occupation, the Paris Peace Agreement was signed in 1991, bringing the promise of peace, freedom and democracy to a broken nation.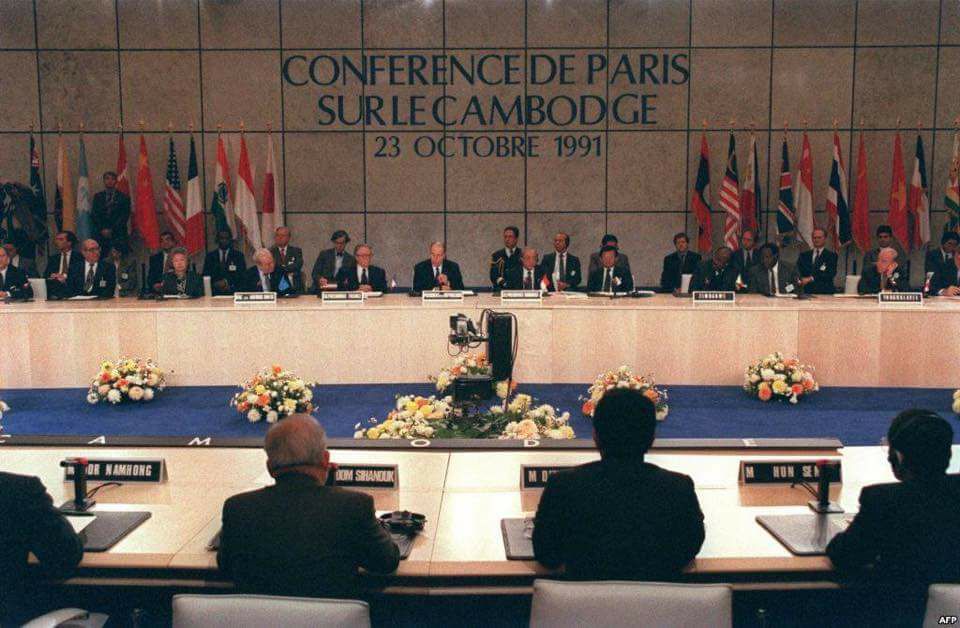 In a statement written by the group stated, "We, Cambodians dispersed around the world remember well the hope they were filled with, when 95% of registered Cambodians voters cast their ballot for the first and only U.N. sponsored free and fair election in 1993. Within months, Prime Minister Hun Sen turned that promise into a still on-going one party rule for the past three decades. Cambodians overseas hold these commemorations every year to remind the world and the Cambodian government of the broken promises of freedom, democracy and territorial integrity guaranteed by those Agreements." The group said they will strive for the peaceful implementation of all the provisions of the 1991 Paris Peace Agreements and to hold the government of Cambodia accountable for any violations of its provisions, until those promises are fulfilled.
The recent arrests of youth activists and union leader Mr. Rong Chun, the unlawful arrest of opposition party leader Mr. Kem Sokha and the dissolution of the opposition party CNRP (which had 53 parliamentary members in 2017), and the 2018 one-party election of Prime Minister Hun Sen shows the current broken system in Cambodia and a clear violation of the 1991 Paris Peace Agreement.
The 29th Annual Paris Peace Agreement virtual event will kick-off on Friday October 23rd from 10 am – 1:30 pm, notable speakers will include Australian legislator Federal MP Julian Hill, Brad Adams Human Rights Watch Asia Director, International Lawyer Morton Sklar, Professor Stephen Morris, author of "Why Vietnam Invaded Cambodia", U.S. officials, international and Cambodian human rights organizations. On Saturday October 24th, the program will be held in Khmer language from 10 am – 8 pm Eastern time. Topics will include PPA violations and PPA+ solutions.
The public is invited to join the virtual commemoration event on Facebook Live at www.facebook.com/Cambodian-Americans. To join zoom meeting, please email to wgc@khmerpeoplenetwork.org for the login info.