36th Annual Lowell Plan Breakfast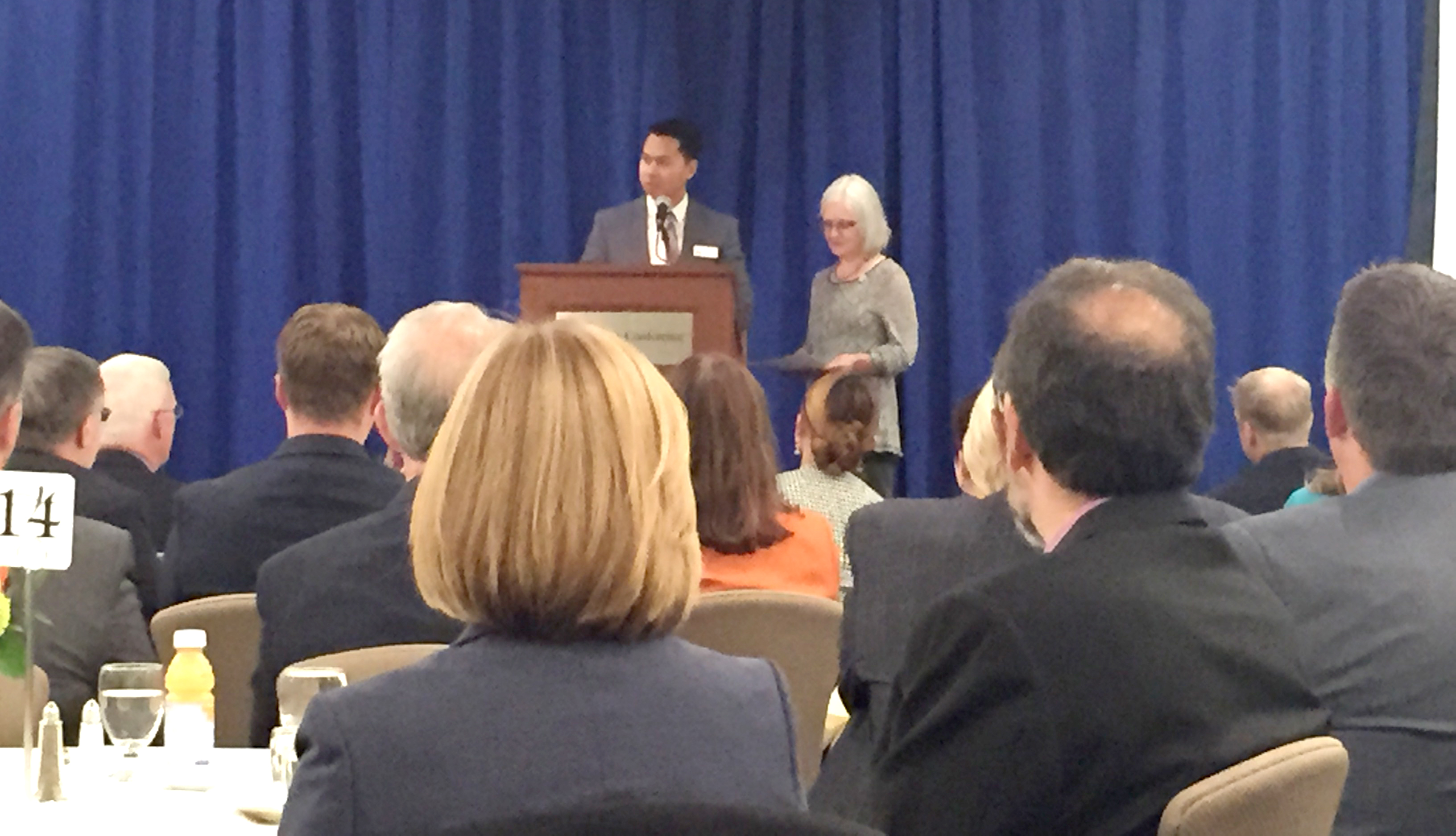 by Soben Pin
On September 29th, i attended the Lowell Plan 36th Annual Breakfast, an event in Lowell that gathers many city officials and business leaders together to talk about the accomplishments as a city has achieved over the years.
Between speeches, Lowell Plan presented a video segment "Lowell Means Business", a 7 minutes video that highlighted Lowell's business and jobs growth in recent years. Some of the facts were reported that, since 2014, job's growth in Lowell has increased by 10.6% (3800 jobs have added), 460 millions in private funding for offices and manufacturing, and 240 millions public funding toward infrastructures projects recently.
Roger "Sam" Altreuter, Principle of Farley White Interests said he"has confidence in the future and wanted to show our friends that we were not crazy to invest in Lowell". Farley White owns Wannalancit Mill alongside the north Canal, Boott Mills Offices at 116 John St, and Cross River Center at 1001 Pawtucket Blvd.
Dave Heller, President and CEO of Mainstreet Baseball, who is the new owner of Lowell Spinners said he is grateful for the warm welcome in Lowell. "We are in the memories making business and we want to make it more fun for kids" said Heller. The Lowell's Spinner is a 19 years old park and said he plans to make new improvements. Additionally, "Cambodian community is a big part of Lowell, we certainly would like to see them at the games and we could even add Cambodian foods to serve at the park" Heller told the KhmerPost USA.
Mayor Ed Kennedy said he's very excited with many events and accomplishments Lowell has made. Most recently, the lighting canal and the kenetic sculptor race was wonderful to watch and he thanked the school superintendent Salah Khelfaoui and administration for the hard work they did for Lowell Public Schools to achieve better test scores.
Senator Eileen Donoghue encouraged the audience to enroll in "Public Matters" class, a study course in civic engagement that offers by the Lowell Plan in partnership with Lowell National Historic Park. The class runs from January – June. Sovanna Peou of CMAA and Clare Gunther of LCHC who took the class were speaking on behalf on their class at the breakfast about how this course has benefited them.
Other city officials were in attendance including Councilors Corey Belanger, Jim Leary, Rodney Elliott, Rita Mercier, Bill Samara, and John Leahy; School Committee Members in the attendance were Steve Gendron, Robert Hoey, and Andy Descoteaux.
ជួបប្រជុំ‹អាហារឡូវែលពេលព្រឹក›លើកទិ៣៦
ដោយ សូបិន ពិន
យើងបានទៅចូលរួមអាហារពេលព្រឹក ដ៏ពិសេសមួយ ដែលមានអ្នកចូលរួមប្រហែល៤០០នាក់ នៅព្រហ៊ាមថ្ងៃទី២៩កញ្ញាកន្លងទៅ។ នៅរៀងរាល់ឆ្នាំ‹ជីម ឃូគ នៃគម្រោងឡូវែល›បានរៀបអាហារពេលព្រឹកនេះឡើង ដើម្បីស្តាប់អ្នកមានឥទ្ធិពលក្នុងអភិវឌ្ឍន៍សំខាន់ៗក្នុងតំបន់ គេមកបង្ហាញគំនិតនឹងគម្រោង ចែករំលែកដល់អ្នកចូលរួមទាំងអស់។
ពួកគេមានប្រយោជន៍នឹងចូលរួមចំណែក ក្នុងពិធិដ៏ចំឡែកសម្រាប់ខ្មែរយើង តែជាការធម្មតា ដែលគេតែងតែមកជួបជុំគ្នា ដើម្បីមកពង្រីកនឹងពង្រឹង ប្រព័ន្ធទំនាក់ទំនងពាណិជ្ជកម្មទាំងមូលរបស់គេ។ ពិធីនេះ អ្នករកស៊ីធំៗ នឹងមេដឹកនាំផ្លូវការទាំងអស់មិនដែលខកខានទេ។