As Health Connector Deadline for January Plans Looms, Members and New Applicants Take Steps for Enrollment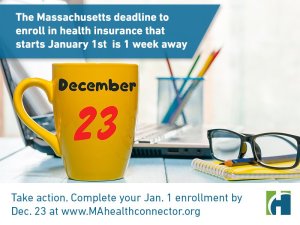 BOSTON – December 14, 2016 – With the Dec. 23 deadline approaching for plans starting Jan. 1, 2017, more than 28,000 current Massachusetts Health Connector members have picked a new plan and more than 24,000 new applicants have lined up coverage for the New Year.
Open Enrollment started Nov. 1 and runs through Jan. 31, but the Dec. 23 deadline is the most important of the year. For people – both current members and new applicants – who want new coverage for the New Year, the deadline to pick a plan and pay for it is nine days away. The federal deadline is Dec. 15, but Massachusetts residents have additional time under state rules to complete their enrollment.
"We are pleased to see so many people, take the time to 'stop, shop, enroll' early in Open Enrollment and get into the best plan for their needs for 2017," said Louis Gutierrez, the Executive Director of the Massachusetts Health Connector. "The deadline is Dec. 23 to get coverage for the New Year, which is important for both members who want a different plan next year, and for those who do not have insurance right now."
Before and throughout Open Enrollment, current members have been encouraged to shop for new 2017 plans, particularly those who would otherwise experience a large increase in premium. Members have been active during Open Enrollment, with more than 20,054 people as of Dec. 7 having paid for a new plan, and additional 7,927 having picked a new plan in advance of the Dec. 23 payment deadline.
New applicants continue to look for 2017 coverage in advance of the deadline. As of Dec. 7, 13,737 people had paid for a new health plan for 2017, and an additional 10,529 had picked a plan in advance of the Dec. 23 payment deadline. A new member is considered enrolled once their first month's premium is paid.
For members and applicants who have questions about application information or picking the right plan, assistance is available throughout Massachusetts. Along with supporting information at MAhealthconnector.org, people seeking help can visit a Health Connector walk-in center in one of six communities (Boston, Worcester, Springfield, Fall River, Lowell and Brockton), or a Navigator or Certified Application Councilor in their community.
Lowell Community Health Center (Lowell CHC) is one of 6 walk-in Health Connector sites in the Commonwealth that has Health Connector staff on site providing help on a walk-in basis from 8:30 a.m. to 4 p.m. Monday through Friday. The health center is located at 161 Jackson Street, Lowell.
Since Open Enrollment began on November 1, Health Connector staff have assisted 485 people with health insurance enrollment. Services include help completing online applications, selecting or switching health plans, unlocking online applications already started, identity proofing, payment processing and general troubleshooting.
In addition, Lowell CHC Health Benefits staff are available in person or on the phone to assist with health insurance enrollment and questions about coverage. Health Benefits staff are available Monday – Friday 8a.m. to 4:30p.m., Tuesdays 8a.m. to 7:30p.m. and Saturdays 8a.m. to 1p.m. Anyone seeking insurance assistance outside of the Health Connector, including for MassHealth, may apply at any time with assistance available from Lowell CHC Health Benefits staff.
To contact the Health Connector, call 1-877-MA ENROLL (1-877-623-6765). To reach a Lowell CHC Health Benefits Counselor, call 978-937-9700.