City of Lowell announces ARPA funding grants for the Cultural Sector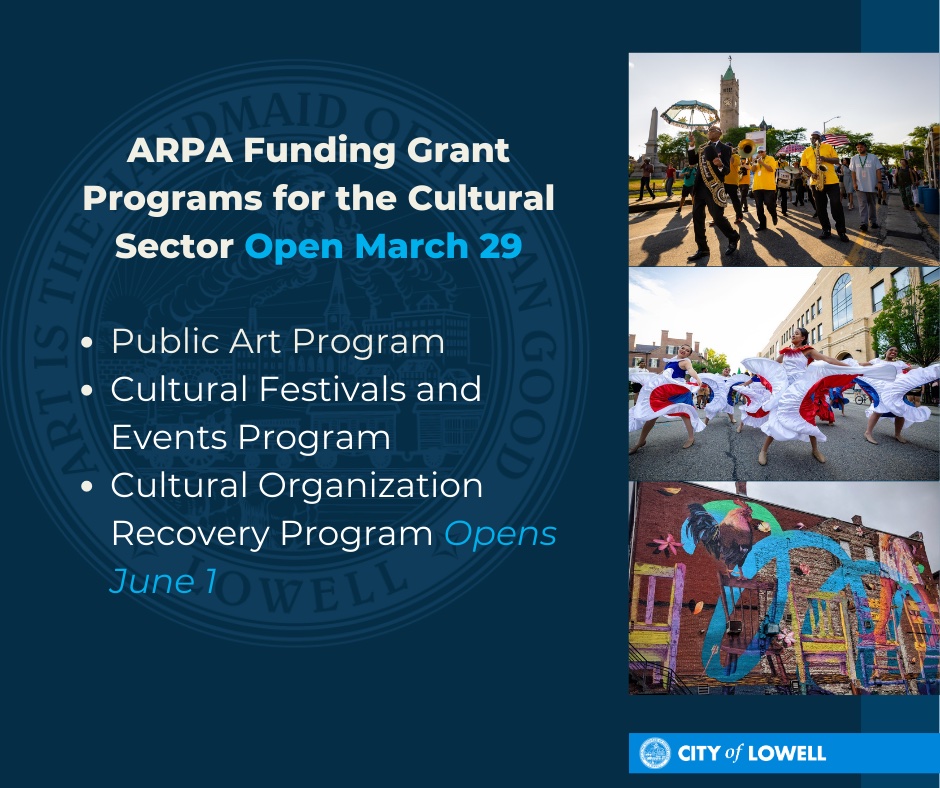 The City of Lowell announced three new American Rescue Plan Act (ARPA) programs which to promote the City's Cultural Sector's recovery from the COVID-19 pandemic. The funds available nearly $1 million for cultural organizations to apply. The grants is part of the bigger federal funding for Covid-19 Recovery package in which the City of Lowell was awarded over $75 million to assist in the ongoing pandemic recovery effort.
The three grants are including:
·   City of Lowell Public Art Program: ($300,000)
Open to non-profit organizations, for-profit businesses, and individuals. This program aims to stimulate a sense of community pride and improve the quality of life for Lowell residents. Projects must meet all City of Lowell Public Art Guidelines, and a formal public art application must be submitted. A preliminary application period will open on March 29, 2023, and close August 25, 2023, at 5:00PM. All projects must be completed by December 2025.
·         Cultural Festivals and Events Program: ($200,000)
Open to 501(c)3 organizations, non-profit organizations, and volunteer-led groups. This program is intended to provide a first or next step in recovery, and continue and enhance the successful return of cultural festivals and events in 2023. Priority will be given to festivals and events that can demonstrate a plan for sustainability beyond the end of the program. Applications will open March 29, 2023, and be reviewed on a rolling basis until June 1, 2023.
·         Cultural Organization Recovery Program: ($300,000)
Open to 501(c)3 organizations or organizations with a designated fiscal agent. This program is designed to help Lowell's cultural organizations with audience retention and building, partnership building, and community engagement. Organizations must have been in operation on or before January 1, 2022. Applications will open June 1, 2023, and close on September 1, 2023, at 5:00PM
Peter Crewe, Director of Cultural Affairs and Special Events (CASE) said, "the City understands the important role the cultural sector plays in the City's overall economy and quality of life for Lowell residents. These grants are a significant step forward in the City's recovery and return to a healthy, vibrant center of culture in the region."