DIY Lowell to Celebrate Community Project with Pizza Night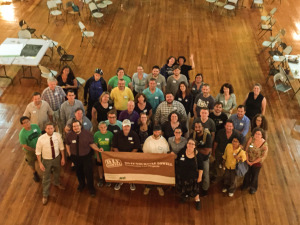 KhmerPost USA – Feb 27, 2016
Do-it-Yourself Lowell has been very busy over the past year, and plans to celebrate with "DIY Lowell Night," a public event with pizza, music, and presentations about its current projects and events in Lowell a reality. The event, to be held on March 2, 7:00 pm, at UnchARTed Gallery, will also serve as a kick-off to their 2016 season.
"We want to think the community and especially our volunteers for their support," says DIY Lowell Founder Aurora Erickson. "We want to show off what they've done and what we're going to do together — and it's a great excuse to share some great pizza downtown!"
DIY Lowell groups have already organized a leaf-viewing party at the Reservoir at Christian Hill, raised thousands of dollars and begun design of two downtown artistic bicycle racks, mapped out and secured approvals for a pop-up temporary history trail, identified a source of fruit tree saplings to plant in a public location, and began discussions to install cabinets to share free books at bus stops. DIY Lowell leaders also organized a project to work with small businesses and property owners to decorate downtown Lowell storefronts last November. DIY Lowell groups are entirely volunteer-led and learn from local institutions, community leaders, and one another.
"We're especially proud of the fact that many of the volunteers had never done anything like fundraising, running meetings, or securing approvals before, and now they're feeling empowered to do more in the future," added Erickson.
The event will be free for DIY Lowell volunteers and $5 at the door for the general public. Media/press passes are available. Pizza samples from UnchARTed are included, cash bar available. All ages are welcome.
About DIY Lowell: Do-it-Yourself Lowell is an informal citizen organization dedicated to help neighbors make small-scale events and projects happen together. It is supported in part by a grant from the Lowell Cultural Council, a local agency which is supported by the Massachusetts Cultural Council, a state agency. The organizations collects ideas on their website, and to submit an idea or learn more, visit DIYLowell.org.