PRESS CLUB to be held on April 9th
KhmerPost USA next PRESS CLUB is scheduled to be held on Thursday, April 9, 2015 from noon until 2 pm at Lowell Telecommunications, 246 Market St in Lowell, Massachusetts.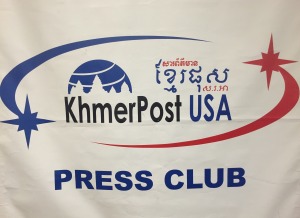 The first portion of this PRESS CLUB will review and discuss the proposal to install a Cambodian monument on Lowell City Hall Plaza. The second part of the meeting will continue the discussion began at previous PRESS CLUBS between Cambodian business owners and city officials about the challenges faced by these businesses and about how city government can assist.
PRESS CLUB provides a valuable opportunity for the Cambodian community and government officials in Lowell to learn more about the challenges each face and to improve overall communications.  Because the KhmerPost USA publishes articles about what is discussed at these meetings, the information is shared with the entire Cambodian community.  Please consider joining us on April 9th.  Lunch will be served. For more details about the event, please contact Soben Pin at sobenpin@khmerpostusa.com or 978-656-8141. Additionally, for previous Press Club report from February 6th, 2015, please follow the link: https://khmerpostusa.com/archives/2308