Robert Garcia Became Long Beach's First Sitting Mayor To Visit Cambodia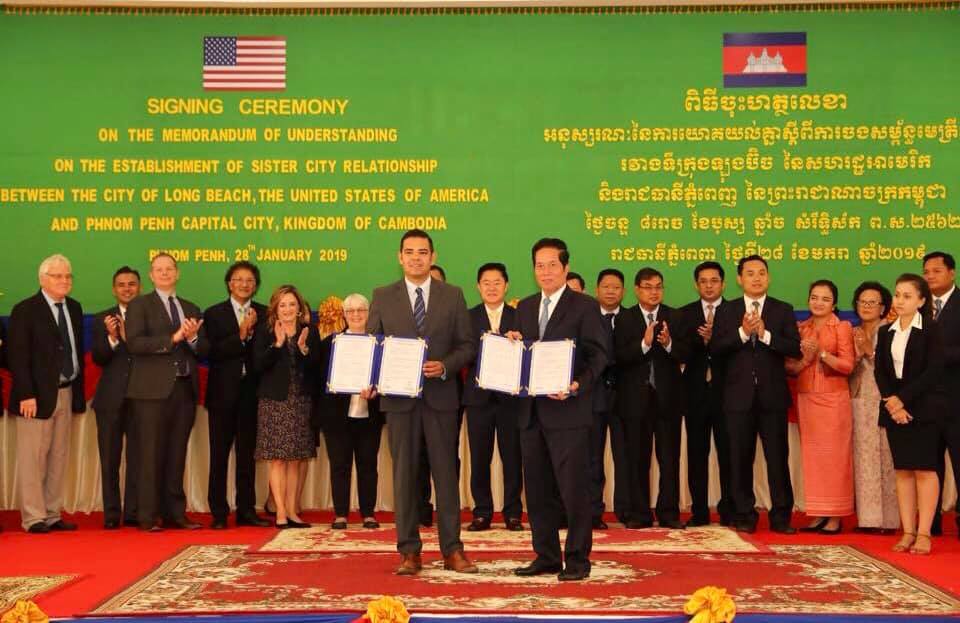 Long Beach, CA – Mayor Robert Garcia and representatives of Long Beach Port Authority recently went on a 10-days business and investment trip to Asia. They visited Singapore, Cambodia, and Vietnam.
In Cambodia, a formal signing ceremony was performed between Mayor of Long Beach and Mayor of Phnom Penh to renew the sister city relationship.
The Long Beach and Phnom Penh sister city was first signed in October 1993 for the purpose to promote cultural exchanges and improve trade relations between the two cities.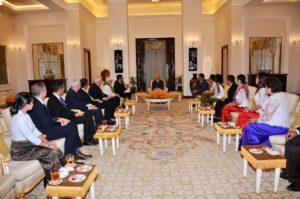 Mayor Garcia and the delegation, which were including the members of Cambodia Town and Long Beach Port Authority, received an audience with His Majesty Norodom Sihamoni at the Royal Palace in Phnom Penh on January 29, 2019.
His Majesty Sihamoni praised the city of Long Beach for designating the Cambodia Town Cultural and Business District in Long Beach since 2007.
The state of California has the highest concentration of Cambodians in the country with over 35% residing in the greater Los Angeles area. According to the Census Bureau, there are 116,822 Cambodians living in California, 41,459 in Los Angeles County, and 19,784 in the City of Long Beach.
In a statement released in a video from Phnom Penh, Mayor Garcia said "we're here with Port of Long Beach to ensure that trade strengthen and we have a great cultural exchanges by signing the a new memorandum for our sister city association with Phnom Penh and of course to work with the Cambodia Town".
The delegation reported to have met with His Excellency Sorasak Pan, Minister of Commerce and His Excellency Chanthol Sun, Minister of Transportation and Public Work in effort to strengthening the business and trade relations between the two cities and countries.
As Mayor Garcia and the Long Beach delegation continued their tour in Asia, they visited Angkor Wat in Siem Reap, one of the world largest religious monuments built in the 12th century. It is a UNESCO World Heritage site and was name as number one best tourist attraction by the Lonely Planet in 2015.