Governor Patrick touts entrepreneurship, Sandbox, in visit to Lowell
By James Ostis
One of the central tenets of the Merrimack Valley Sandbox's Accelerator program is the importance of pairing emerging entrepreneurs with knowledgeable and experienced mentors.  During his visit to Lowell on February 4th, Massachusetts Governor Deval Patrick showed that he and his administration recognize that importance wholeheartedly.
Governor Patrick visited the Sandbox office at the Wannalancit Mills to present the Sandbox and two other organizations (Interise Inc and Valley Venture Mentors) grant awards under the Massachusetts Technology Collaborative's Innovation Mentoring Initiative.   The Sandbox will receive $150,000 to strengthen and expand their mentor program for entrepreneurs by hiring two additional 'Managers of Mentorship.' The funds will also be used to enhance communication between mentors and entrepreneurs and raise awareness of Sandbox programs in the region.
Noting the importance of entrepreneurship in encouraging economic activity, the governor said, "This type of innovation is what our state is known for, but it has been done in one area of concentration. It's time to spread that attitude outside Greater Boston."  The Sandbox's work in the Merrimack Valley was cited as an example of an organization achieving that goal.
After announcing the awards, Governor Patrick participated in an hour-long roundtable discussion with the current Accelerator class moderated by Sandbox executive director, David Parker. The wide-ranging exchange touched on ways state government can help support innovation in the Commonwealth as well as the importance of the networks that have been formed through the work of the Sandbox.  The governor also took a personal interest in the "diverse range of ventures" represented by the members of the Accelerator class, engaging in discussions with the entrepreneurs and mentors present about their businesses and ideas.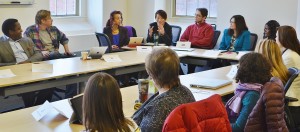 This group represents the third class of the Sandbox Accelerator program, which had its first cohort last winter and has already helped over 40 innovative startups in the region, including several with strong ties to Lowell's Cambodian population.  Hundreds more have participated in Sandbox pitch contests held  at various times throughout the year.  The Sandbox Consumer Ideas Pitch Contest will be on Tuesday February 18th at the Wannalancit Mills, 175 Cabot St, Suite 100 in Lowell.  Information about applying for the Summer Accelerator program will be available in April at www.mvsandbox.org.
Expressing disappointment that he had to leave the discussion to go to another engagement, the governor stated he was very impressed with what he encountered during his visit to the Sandbox and was optimistic about the innovative opportunities these mentoring grants will support.   "We need people to take charge of their own passions, their own ideas, and to help us build a better economy and a stronger range of opportunities for everybody as we do so.  That's happening here and I'm happy to be a part of it."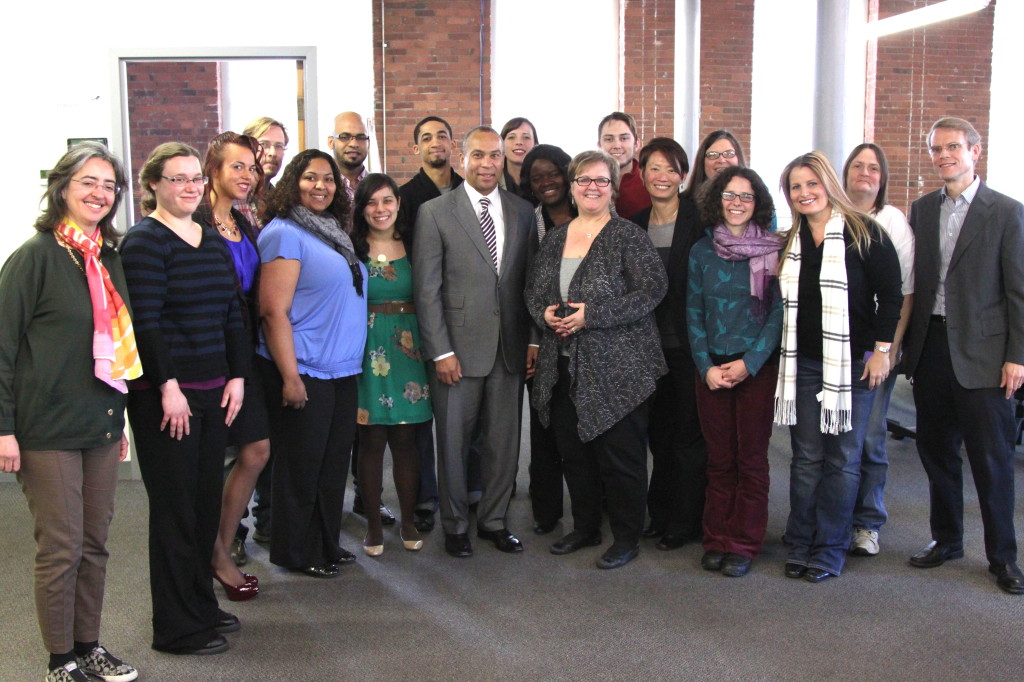 This article appears in the February 7th edition of KhmerPostUSA
Previously: Lowell: The Entrepreneurial City
Lowell Entrepreneurs Share $30K Prize Pool a Sandbox Summer Accelerator Awards