Lowell Videos Show 'Roots, Realities, & Dreams'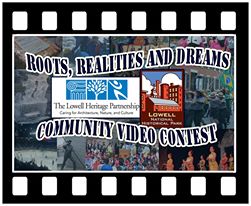 Light of Cambodian Children Film wins 2nd prize
In 2010, The Fighter showed that the City of Lowell could be a huge hit when it graces the silver screen.  Over the course of the last few months, Lowell Heritage Partnership (LHP) has showcased that you don't need a Hollywood budget to use the power of film and video to tell compelling Lowell Stories.
December 19th – The Light of Cambodian Children's Sopheap Theam was named the second prize winner for a local "Roots, Realities and Dreams Community" community video contest by Lowell Heritage Partnership,  titled "Future Stars Summers in Lowell" highlighting the organization's summer youth camp. Seven finalists were honored with total prizes of over $3000 at a reception hosted by LTC Lowell after a process that ran throughout the summer and fall.
The $750 prize was donated to the organization and accepted by LCC director Sayon Soeun on Sopheap's behalf.
Gary Bergeron of Lowell won the contest's $1500 top prize with the music video "Born and Raised in Lowell."  The video featured an original song by Michael Noonan and was produced using the equipment at LTC Lowell.
Another nonprofit organization, Habitat for Humanity of Greater Lowell, won the fan favorite award of $250 after an open online voting period during the month of November.  All told, four of the prize awards went directly to area nonprofit organizations as Angkor Dance Troupe and the Greater Lowell Community Foundation's Global Goals Fund (as a gift from Elysa Briggs) also received donations.
The Lowell Heritage Partnership video contest was in partnership with Lowell National Historical Park and made possible through a grant of the Theodore Edson Parker Foundation.  For more information about LHP initiative, please visit: www.lowellheritagepartnership.org

This article appears in the January 10th edition of KhmerPostUSA