Legacies of 1991 Paris Peace Agreement for Cambodia: Part I. Elections
Part I. National Elections
Cambodia's ruling party (CPP), under one "strong man" prime minister Hun Sen, has been in power for 36 years. How did this happen? Did the Paris Peace Agreement help re-structure Cambodia as it should have politically?
The hard won peace for Cambodia was a new beginning for the country; a fresh start. However, since the first election, the UNTAC mission had failed. In the last 6 national elections, from 1993 to 2018, Prime Minister Hun Sen — who came to power in 1985, after the fall of the Khmer Rouge — never conceded his power.
In the 1993 United Nations sponsored election, Hun Sen lost but refused to step down and demanded that he share power. He threatened to divide the country into two. The late King Norodom Sihanouk agreed to his demand; in order to unite the country, he made Hun Sen Co-Prime Minister with Prince Norodom Ranariddh. Four years later, Hun Sen staged a military coup and arrested Prince Ranariddh, he then assumed full power and continues to have it today.
Despite the coup in 1997, Cambodian human rights groups continued their groundwork in educating the people about human rights and participation in the election process. At the time, a leader of an NGO, Kem Sokha, was threatened to be arrested. Meanwhile, Sam Rainsy, who had served as an elected member of parliament and Minister of Economy and Finance under the coalition government of Prince Ranariddh and Hun Sen for a short time, before being expelled from the National Assembly, established his own political party to participate in the 1998 election.
According to a Human Rights Watch report on March 17, 1997, about 200 protestors gathered with Sam Rainsy across the street from the National Assembly to denounce the judicial corruption and lack of independence. Four grenades were thrown into the crowd, killing 16 and injuring 100 protestors, including children and bystanders. Rainsy was injured but escaped the attack, however two of his bodyguards were killed.
In the next 5 years, three more presidents of the Free Trade Union Workers were killed: in January 2004 Chea Vichea was killed; in May 2004 Ros Sovannarith was killed, and in 2007, Hy Vuthy was killed. At the same time frame in 2004, Chhut Vuthy, a founder and director of the Natural Resource Protection Group, a small NGO dedicated to saving Cambodia's forests, was also murdered. Cambodia, a country once filled with ancient thick forest like the Amazon, was being deforested by illegal logging and its timber was sent to neighboring countries and overseas.
In the 2003 election, Sam Rainsy won 24 seats, increased from 15 seats in 1998, and Prince Ranariddh of FUNCINPEC won 26 seats, decreased from 42 seats. Hun Sen won 73 seats, increased from 64 seats. The Cambodian constitution requires 81 seats to form a government. Prince Ranariddh joined with Hun Sen to form a government, leaving Sam Rainsy without a collective bargain as an opposing party.
In 2005, Kem Sokha, president of the Center for Human Rights was arrested and jailed because his staff displayed a banner criticizing Hun Sen's policy at an information booth during International Human Rights day. He was released 11 days later after an intervention by U.S. Envoy Christopher Hill. After his release from jail, Kem Sokha established his own political party and named it the Human Rights Party, entered the 2008 election and won 3 seats. In that year,  Sam Rainsy won 26 seats, Hun Sen won 90 seats. Prince Ranariddh won 2 seats, and FUNCINPEC, under a new president Nhek Bunchey won 2 seats. That was the last breath from the FUNCINPEC and Prince Ranariddh legacies.
In 2009, a conversation between the two opposing parties, Human Rights Party and Sam Rainsy Party, began in Philadelphia where the two leaders met for the first time and discussed the possibility of merging. The Cambodian people wanted the opposition parties to be united. In 2012, the two parties merged and began preparing for the 2013 election under a new Cambodia National Rescue Party (CNRP). In that election, 55 seats or 44% of the national assembly was won by CNRP vs Hun Sen won 68 seats, or 48%.
Nearly one million Cambodians flocked into the capital to demonstrate, claiming CNRP won the election. Hun Sen deployed his military with armored trucks and tanks onto the streets of Phnom Penh to intimidate the demonstrators. Sam Rainsy announced over a broadcast telling everyone to go home. CNRP accepted the results after a political compromise was reached. This marked the beginning of the end of a high point of Cambodian democracy and civic engagement. CNRP was dissolved in 2017. Kem Sokha was put under house arrest and Sam Rainsy was forced to resign and went into exile. By the 2018 national election, it was a one party state. Hun Sen took all 125 seats. Prince Ranariddh was propped up as an opposition party to legitimize Hun Sen's election, but won no seat.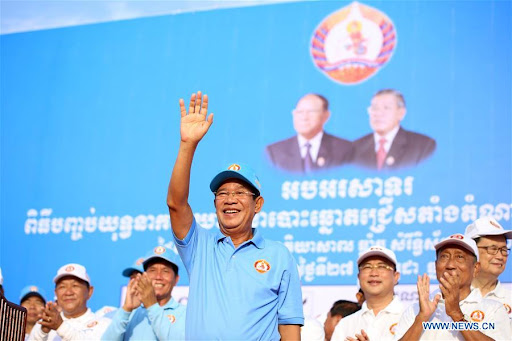 Part II. How can the Paris Peace Agreement accomplish anything meaningful for the Cambodian people today? To be continued.