Lowell: the Snowiest City in America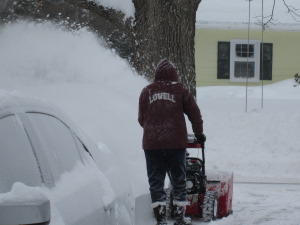 Feb. 21st, 2015 – In a normal winter, Lowell would have received 36 inches of snow by now. But this is not a normal winter. As I write this, we already have 111 inches on the ground with more forecast for this evening. That makes the winter of 2014-15 the snowiest winter since 1891. We have so much snow this year that Lowell is also the snowiest city in the United States. As of February 16, Lowell was first with 111 inches followed by Worcester with 103 and Boston with 95. Other top cities were Buffalo, New York with 96 inches, Erie, Pennsylvania with 91 and Syracuse, New York with 86.
The city of Lowell Public Works Department has done a fine job of removing snow from the city's 253 miles of streets. Still, large snowbanks dangerously reduce visibility at intersections and make already narrow streets very tight for passing cars. To assist with snow removal, the city usually declares a parking ban when a snowstorm begins. Anyone who leaves his car parked on the street during a parking ban may get a ticket or have his car towed.
A city ordinance also requires property owners to clear snow from all sidewalks that run along your property within 12 hours of the end of the storm. This is to permit people to walk on the sidewalks rather than be forced to walk in the streets. When clearing sidewalks and your driveway, however, do not throw snow into the street. The city will penalize you for doing that.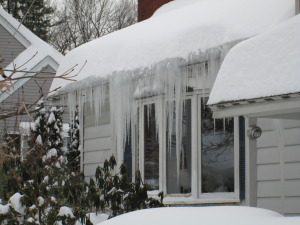 There are other things people should do after a snowstorm. Clear snow away from vents for your home heating system. Clear snow from any nearby fire hydrant so it will be quickly available if there is a fire in the neighborhood.
All of this snow has also caused problems with roofs of houses. When rooftop snow begins to melt, it often freezes at the edge of the roof creating a ridge of ice. This is called an "ice dam" and it blocks other water from flowing off of the roof. That water has to go somewhere so it usually leaks into your house, often through a light fixture or window frame. Because working on a roof in the winter is very dangerous, it is best to hire a professional to remove an ice dam although some people fill up a sock with chemical ice melt and toss it up on the roof, hoping it will melt a channel through the ice to release the water.
One thing that makes all of this snow easier to tolerate is knowing that spring is just a month away. Soon the snow will be gone and flowers will be pushing up through the ground. As the famous American writer, Mark Twain, once said, "If you don't like the weather in New England, wait a minute and it will change."