Was There Actually a Cambodian Victory Over Genocide on January 7, 1979?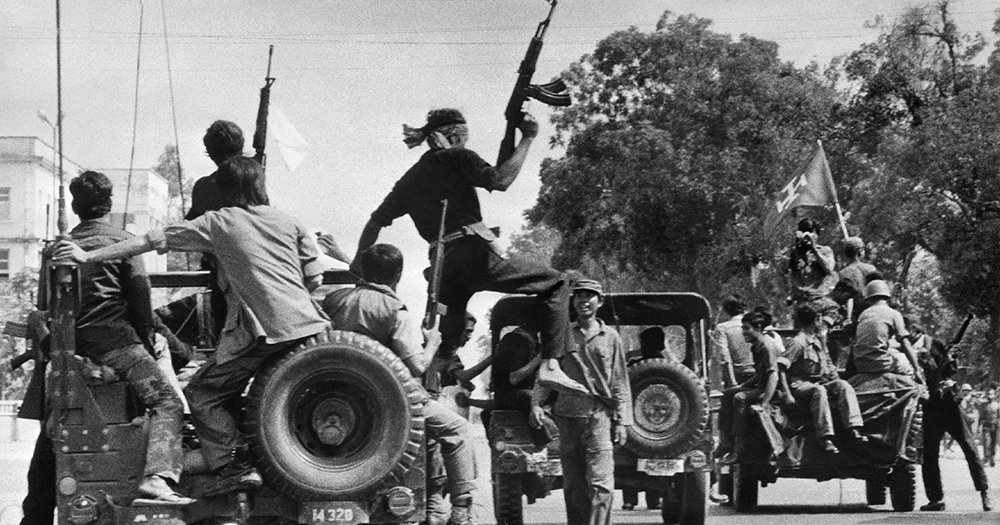 This past January, there were many celebrations and parties in various Cambodian American communities and in Cambodia commemorating the fall of the Khmer Rouge. Cambodia's ruling party CPP celebrated this day as "Victory Over Genocide Day" thanking Vietnam for its military invasion in 1979, calling it a "liberation." It is an official holiday in Cambodia. In Lowell, a crowd of over 250 Cambodian Americans including several local elected officials attended the Cambodian People's Party 44th Anniversary of Victory Over Genocide Day at Pailin Restaurant on Branch Street.
I want to explain to our community the significance of this day and why Cambodians should not celebrate this "Victory Over Genocide Day" but instead remember the forgotten Cambodian–Vietnamese War in which the Socialist Republic of Vietnam invaded and occupied Cambodia for over a decade starting in 1979.
On December 21, 1978, Vietnam launched a full-scale invasion of Cambodia with 170,000 troops that ousted the Khmer Rouge in just two weeks. January 7, 1979 marked the fall of the Khmer Rouge regime, a regime famously known for killing 2 million people in what is known as the Cambodian Genocide. However, another 1.5 million or more Cambodians died under the ten-year occupation by Vietnam according to governmental and academic estimates. A number nearly equal to the preceding Pol Pot regime but hardly publicized.
After the invasion, Vietnam set up a pro Vietnamese government made up of a few Khmer Rouge defectors while the remaining Khmer Rouge forces fled to the Thai border and waged a guerilla war against the Vietnamese army. Vietnam's puppet government known as People's Republic of Kampuchea (PRK) did not gain recognition by the United Nations. Khmer Rouge remained the official government at the United Nations during that time.
Vietnam faced severe international economic sanctions over the invasion of Cambodia. However, Vietnam received economic aid from the Soviet Union and continued to fight the American and Chinese-backed Cambodian resistance groups for another decade until the fall of the Berlin Wall when the Soviet Empire crumbled. Without economic aid from the Soviet Union, pro Vietnamese government PRK, then led by Prime Minister Hun Sen came to the negotiating table at the 1991 Paris Peace Agreement which brought an end to Cambodian-Vietnamese war and paved the way to the nation's first free election.
The United Nations sponsored a free and fair election in 1993. Vietnam's puppet  government PRK rebranded to the name Cambodian People's Party (CPP) but retained its politburo and entered the election. CPP lost the election to the royalist's FUNCINPEC Party. However, CPP refused to accept the result and threatened to divide the nation into two and secede eastern Cambodia. Prince Norodom Ranariddh, head of FUNCINPEC Party agreed to form a coalition government with Hun Sen to avoid another war since Cambodia has been in continuous wars for 2 decades. Little did Prince Ranariddh know, four years later, his co-prime Minister Hun Sen launched a coup d'etat, arrested the prince and took control. Since then, Hun Sen crushed any opposition to his power in every election, making sure he has total control.
January 7 is a legacy of Hun Sen and the Cambodian People's Party, a Vietnam backed PRK government from 1979 until this day. Those who celebrate this day as victory should be reminded that during 10 years under Vietnamese control, 1.5 million Cambodian lives were lost and must not be forgotten. The Cambodian People's Party is a pro Vietnam government. Cambodia will become part of Vietnam, similar to Khmer Krom (Lower Mekong Delta), a part of Cambodia that was annexed by Vietnam in 1954, after over 200 years of occupation. History will repeat itself when you don't learn from it.
People should remember the Khmer Rouge killing field, but not be misinformed to thank Vietnam for the invasion. Cambodian Americans who are knowledgeable about the true history commemorates the Cambodian Genocide Remembrance Day on April 17, the day Phnom Penh fell in 1975. The Cambodian American community in Long Beach, for example, holds various events throughout the day every year on April 17th to remember the Khmer Rouge killing field and host conversations to honor the memories of lives loss and promote healing. This is the positive way to remember the history and the victims. "Victory over Genocide Day" is a celebration that legitimizes the Vietnamese invasion and its illegitimate government along with the forgotten 1.5 million lives loss during the occupation.
Furthermore, the Cambodian Americans should not support Cambodia's authoritarian government while living in the U.S., a country which embrace freedom and democracy. They should not take part in any political activity promoting single rule party in Cambodia, much less as elected officials.