2016 Kinetic Sculpture Race to Take Place in Lowell, MA on September 24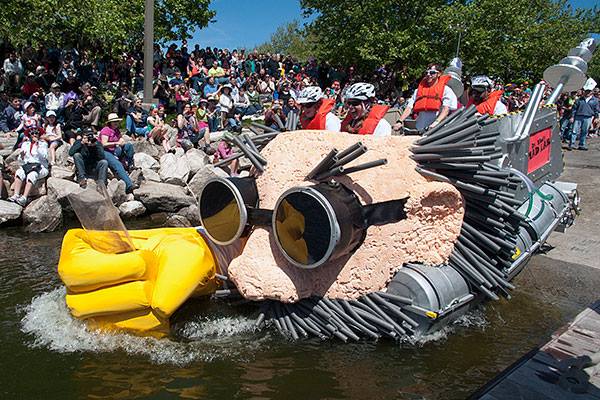 by KhmerPost USA
Lowell, Massachusetts will host the first Kinetic Sculpture Race to take place in New England on Saturday, September 24, 2016. Sitting squarely at the crossroads of science, technology, engineering, art and mathematics, the Kinetic Sculpture Race, sometimes referred to as the Triathlon of the Art World, is comprised of home-engineered, all-terrain, human-powered vehicles with an artistic twist. Over the course of a day, these kinetic sculptures will tackle obstacles such as cobblestones, mud, water and sand. Each kinetic team has a theme and consists of pilots, pit crew and support crew. Kinetic pilots pedal the sculpture and steer while the pit and support crews assist the pilots in transforming the vehicle for the various elements and fixing mechanical issues. While there is an award for the fastest time to complete the course, the goal of the race to create an enjoyable, family friendly racing spectacle for people of all ages and backgrounds.
"As a constantly evolving destination for education, culture, innovation and the arts, Lowell embodies the spirit of kinetic energy, and is the perfect backdrop for what will become an annual celebration of the collaboration of art and sciences," said Bianca Mauro, co-producer of the race.
Day-long events include viewing the race at the various obstacle locations around Lowell, interacting with competitors and officials, and enjoying a fun, family friendly atmosphere against a backdrop of whimsical racing machines, and an atmosphere of celebration. From 9:00-10:30AM on race day, fans and spectators alike can head down to Market Street to meet the racers and view the incredible sculpture machines. The opening ceremonies will take place at the intersection
of Market and Palmer Streets with a rousing kickoff by the Party Band, as well as performances by local artists at 10:30AM, followed by the start of the race. The engineering feats will be racing through the streets of Lowell, going down the 'Bone-Shaker Alley' of Middle Street to the Maddening Mud Pit at the Tsongas Center, then to brave the waters of the Merrimack River at the DCR Heritage State Park where they will emerge to race back to the finish line on Market Street.
The entire Kinetic Sculpture race-course is open to the public, free of charge. "The Lowell Kinetic Sculpture Race is an anticipated event due to its strong support for all culture and its emphasis on creativity and recycling," said Deb Belanger, Executive Director of the Greater Merrimack Valley Convention & Visitors Bureau. "Lowell is the perfect place for this event, with our vibrant artistic community, passionate residents, unique geographic qualities and history of hosting races."
Originally a west coast phenomenon, the first Kinetic Sculpture Race was held in 1969 in Ferndale, California when local artist Hobart Brown decided to upgrade his son's tricycle, and by the time he was done, he had added a great deal of material including two more wheels. Challenged by his neighbor, Hobart Brown opened up the 1st ever Kinetic Sculpture Race, and a tradition was born.
The goal of the race is to show kids that it's fun to be an adult. This concept is so embedded in the race's culture that there are time bonus incentives for surrounding racing machine in bubbles, carrying a non-racing mascots, dressing up, and "bribing" officials and spectators with homemade food, crafts and artwork.
When planning their builds, participants are encouraged to repurpose what would be considered junk into fantastical kinetic sculptures. Picture several bicycles, a bathtub and old tractor parts transformed into an amphibious racing machine. Notable themed entries at other Kinetic Sculpture Races have included dragons, a larger than life unicycle, a pirate ship, dinosaurs and a two-person basket suspended between 6-foot diameter wheels.
This race is made possible by local sponsors including: The Greater Merrimack Valley Convention & Visitor's Bureau, The Massachusetts Office of Travel and Tourism, MA Sports Office, Legacy Financial Advisors, Heritage Farm Ice Cream and Restaurant, Madison Security Group, Athenian Corner Restaurant, Kelly & Soto Law, City Bicycle Lowell, and UMASS Lowell Art & Design Department.
For more information on Lowell's first Kinetic Sculpture Race, visit www.merrimackvalley.org. Or check out the race page directly at www.lowellkinetic.com for more information, race day schedule, and sponsorship information. Join in the discussion on Facebook at www.facebook.com/lowellkinetic.
For viewing this article print edition in Khmer-English, issue #208 running date September 9th – September 22nd, 2016, please click on the images below: