Cambodian Prime Minister Hun Sen Undermines the ASEAN in Recognizing Myanmar's Military Junta
Aung San Suu Kyi, the Myanmar State Counselor, was sentenced to 4 years in prison on Monday December 6 after a court found her guilty of incitement and violating Covid-19 restrictions. The 76-year-old Nobel Peace Prize laureate was detained on February 1st, 2021 in a coup, the military junta seizing the power by force. San Suu Kyi is the leader of the National League for Democracy. She was previously put in prison for 15 years, and only released in 2010. After her release, Suu Kyi won an election by a landslide in 2015, and won again in 2020.
"Aung San Suu Kyi's guilty verdict has been guaranteed since Myanmar's military detained her on February 1, and more baseless convictions and sentences can be expected to be piled on in the future," said Brad Adams, Asia director at Human Rights Watch. "The junta is using this sham court proceeding to wipe out all opposition to military dictatorship. Yet since the coup and Suu Ky's arrest, millions have taken to the streets to protest for freedom and democracy."
The military coup sparked protests across the country, but peaceful protesters were confronted by armed military forces. Since February, more than 1,200 people have been killed and  7,500 have been arrested. Many have fled to neighboring countries for safety. 
As the new chairman of the ASEAN in 2022, Prime Minister Hun Sen made his first jab on Monday Dec 6, stating that "Myanmar is a member of the ASEAN and Myanmar has the right to attend every meeting." He argued that the structure of the United Nations is different from the ASEAN and that the ASEAN's decision is based on the spirit of consensus. The Cambodian premier invited the Myanmar junta's foreign minister to visit Phnom Penh this week, as well as offering to visit the junta in Myanmar. His actions have undermined the ASEAN's consensus decision to ban the junta from participating in the ASEAN 2021 Summit in October, for failing to reach a political solution in Myanmar.
This has sparked anger amongst Myanmar citizens and a fierce statement from ASEAN Parliamentarians for Human Rights (ASEANMP). A statement released on Twitter said that "Hun Sen's reckless comments on recognizing the junta risk wasting ASEAN's hard-won diplomatic progress since the coup took place as the new Chair of ASEAN, it is in the Cambodian government's interests to strengthen its own, and ASEAN's, credibility by remaining fully committed to the Five-Point Consensus, by providing a roadmap on how it plans to progress on agreed action points, including appointing a new Special Envoy."
"It makes no sense that Cambodian PM Hun Sen is discussing plans to visit Myanmar, thereby legitimizing the junta, before progress has been made on the Five-Point Consensus." said Kasit Piromya, member of Asia-Pacific Leadership Network & Former Thai Foreign Minister.
Mu Sochua, Deputy Vice President of Cambodia National Rescue Party — Cambodia's opposing party, who faces a similar situation as Aung San Suu Kyi said, "I see many similarity instances where the military in Myanmar and the leader of the regime in Cambodia learn from each other. That is to put away their opponent and to go as far as killing their own people, to go as far as to pull everything they have to contain their power, that is not acceptable. The world, the region, every nation should be standing up together with the people of Myanmar. The people of Myanmar have spoken very clearly in a nationwide civil disobedience show very clearly. The people of Myanmar deserve real democracy."
Cambodia will be hosting the ASEAN for the third time since it joined in 1999. The last time it hosted the ASEAN was in 2012 — when member states sharply criticized Prime Minister Hun Sen and wasn't able to produce a consensus report.
A series of angry tweets by the people of Myanmar responded to PM Hun Sen's Twitter account, "PeacePalaceKH".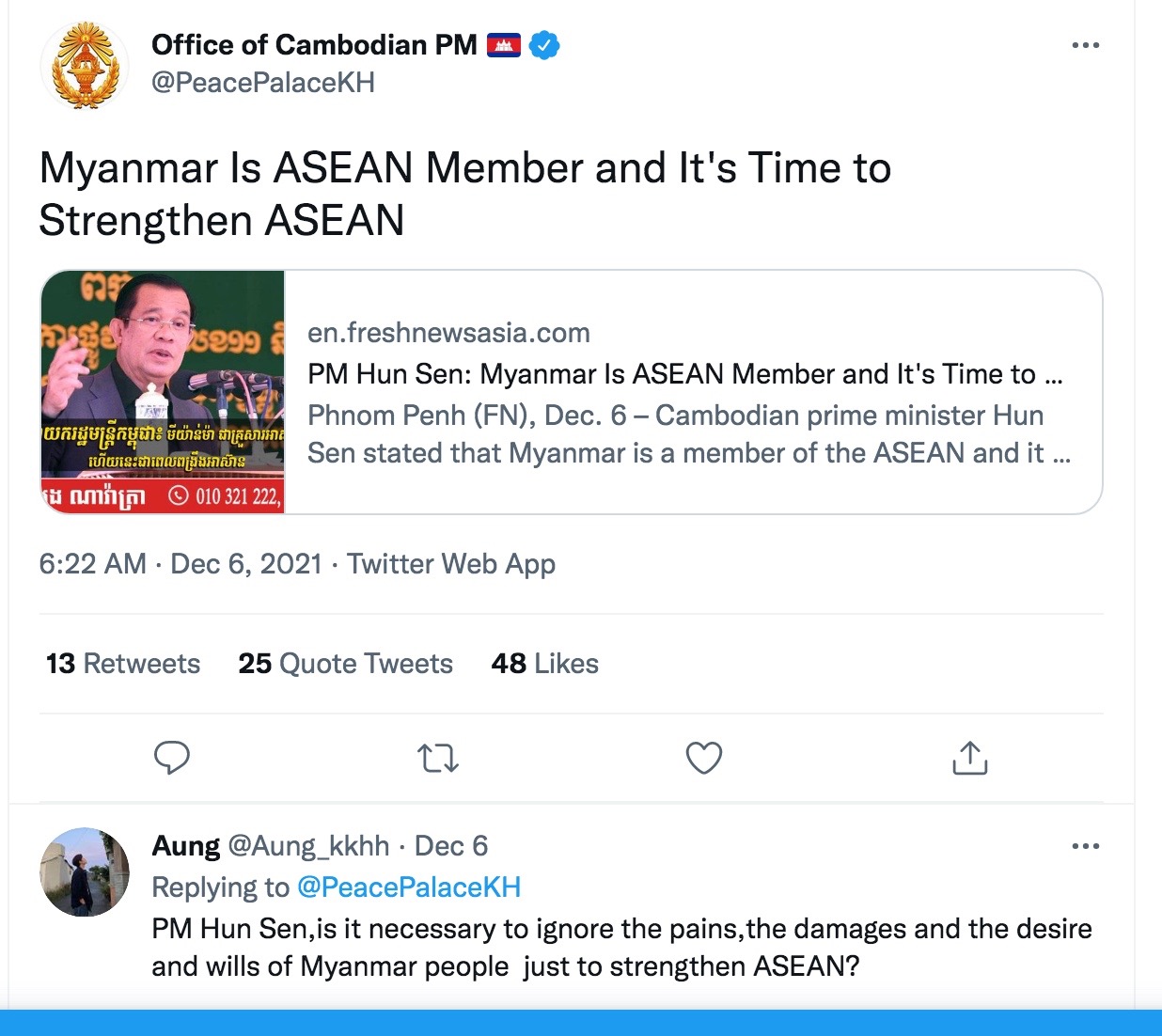 One user by the name of Peter De Rangoon tweeted, "Shameless #Cambodia is trying to legitimize war criminal and terrorist junta. If ASEAN can't help the people of Myanmar, terrorist military regime must be rejected from every meeting at least."
And another user named Ah Lynn tweeted, "I'm not surprised that Cambodian PM Hun Sen is giving a hand to Myanmar's murderous dictator since he's just a dictator in Cambodia. But @ASEAN ministers should be aware of that he's abusing the dignity and name of the regional bloc."
As the reaction from the ASEAN member states continued,  Charles Santiago, Member of Parliament for Malaysia said, "we continue to call for ASEAN to ban all junta representatives from its meetings, prevent junta generals from traveling in the region, and to engage with the duly-elected National Unity Government."
On December 7, the United Nations General Assembly rejected the Myanmar military junta's application for official representation, and allowed Myanmar's current representative to keep his seat.