Editorial: The First Cambodian American Mayor in the U.S – to Celebrate or not Celebrate?
January 3rd, 2022 – the City of Lowell swore in the new hybrid "district and at-large" elected councilors for the first time as a result of a civil rights lawsuit Hout vs. Lowell et all in 2017. It consisted of eight district councilors and three at-large councilors. Previously, all nine were at-large councilors. Six incumbents were re-elected and five new district councilors were elected. Among the 11 councilors, three were Cambodian Americans: Sokhary Chau, district 7; Vesna Nuon, councilor at-large, and Paul Ratha Yem, district 8. Together they voted for one ceremonial mayor. District councilor Sokhary Chau was elected by his peers as Mayor for the first time in Lowell history and anywhere in America. Chau is also the first Asian American to serve as Mayor in Lowell's 186 years of history.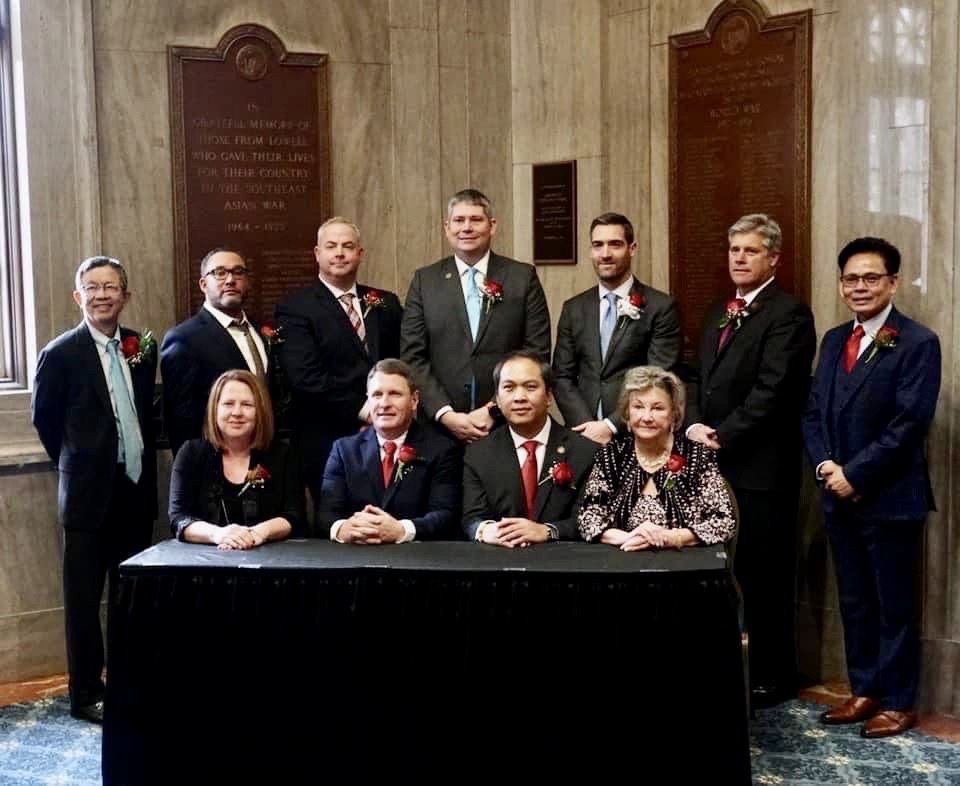 2022 – 2023 Lowell council term from left to right front row: Kim Scott, Erick Gitscher, Sokhary Chau, Rita Mercier. Back row: Vesna Nuon, Corey Robinson, Dan Rourke, Wayne Jenness, John Drinkwater, John Leahy, and Paul Ratha Yem. 
It is to be expected that mainstream media headlines would write about the inspirational story of the first Cambodian American elected as Mayor in the U.S., and they have in the days following the swearing in ceremony. However, as a Cambodian American and a local Cambodian newspaper in Lowell for more than 10 years, the Khmer Post USA is compelled to shed some light on this story.
The story of Mayor Chau's success also come with great disappointment and frustration for the Cambodian American community in Lowell. The elected councilors of Lowell were under pressure by another stronger, senior Cambodian American councilor Vesna Nuon, who received top votes city-wide and also a candidate for mayor. Instead, they rallied to vote for a junior candidate, who served one term with no history of community involvement prior to his run for political office, perhaps to fit the story of Lowell electing a first Cambodian American mayor, while keeping the political status quo. This has further deepened the division in the Cambodian community.
Councilor Nuon is a progressive democrat who strongly denounced the unlimited terms of city councils in Lowell. Additionally, he supported a motion to declare "racism is a public health crisis" that was struck down by the council. On the contrary, Chau stated that he "does not believe racism is a public health crisis" along with councilor Rita Mercier who also supported Chau to be Mayor. A declaration that racism is a public health crisis was issued by State Representative Vanna Howard and Congresswoman Lori Trahan after a series of listening sessions in Lowell with testimonies by victims of discrimination and health experts. Chau and Mercier, however, remain unconvinced.
Moreover, in this election, a non-binding ballot question for the mayor to be publicly elected, instead of the current system in which councilors choose the mayor – was passed with 75% of the votes. The public has spoken clearly on both Vesna's ticket and the ballot question. During the election campaign, all candidates vowed they would support the ballot question if it passed, yet their action is contrary. Because it was non-binding, legally, the council didn't have to follow it, so they voted for a mayor of their own personal choice, ignoring the will of the public which showed Vesna was the most popular candidate.
To be clear, the city of Lowell is managed by a City Manager while the mayor chairs the council and the school committee meetings. The mayor position is only ceremonial.
With the complexity of how Mayor Chau was elected, this does not mean Chau won't be doing a good job as Mayor. From his background, Khmer Post USA learned that he went Phillips Academy on a scholarship, then to Macalester College in St. Paul, Minnesota, also on a scholarship where he studied economics and political science. His hard-working ethics were trained early on in his life and he worked hard during his first term as councilor. However, his ability to mobilize, inspire and serve the community is still in question, as revealed by the fact that he was narrowly elected by 758 votes in his district 7. A district where 45% of voters are Cambodians descent who came to Lowell in the 1980s as war refugees from a genocide. Chau and his family also shared the same story, yet the Cambodian people cannot understand Sokhary Chau's ignorance toward injustices in the homeland even though his grassroot voters care deeply about human rights and fight for a free and fair election in Cambodia.
Hence, the success story of the first Cambodian American Mayor in the U.S. is not a celebratory one for the Cambodian community, because of the unfair mayoral electing process in addition to Chau already does not share the same values that the Cambodian community cares most about. Chau has been silent about the human rights abuses in Cambodia, a regime lead by a former Khmer Rouge leader who has been in power since 1985. Hun Sen made the military serve his party, weaponized the judicial branch to oppress the opposition, intimidate the voters, silenced human rights activists and closed down the free press.
Furthermore, the Cambodians in Lowell have reasons to distrust Chau, especially when his callousness and insensitivity were in full display member,when he recommended a posthumous citation to a Hun Sen lobbyist and Cambodian People's Party who helped Hun Sen stay in power after his bloody coup in 1997 and continued his oppressive regime for 37 years.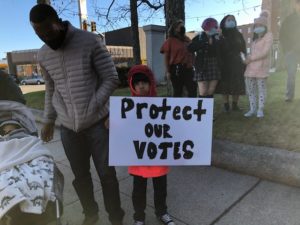 Two rallies were held in front of Lowell City Hall to support councilor Nuon to be Mayor, a top votes getter in the city and a candidate who supports human rights. The group "Fairness & Democracy Committee" said "6,156 votes matter, our voice matter!" Nearly two hundred people demonstrated in December and then again on Sunday January 2, the day before the council voted for the mayor, Vesna graciously thanked the crowds and stated he did not have enough votes from his fellow council members, therefore, he withdrew his candidacy from the race.
Finally, electing Chau as the first Asian American Mayor in Lowell and first Cambodian American Mayor in the U.S. is a historic moment for a history book. However, is Lowell truly ready to take on the progressive change it needs to meet the real challenges? Under the cover of this glossy history book is filled with Lowell's failures to address the key challenges regarding the diversity issues in the last several decades. After facing the election lawsuit, the hiring practices in the city of Lowell received two audits and Lowell has failed miserably. Mayor Chau and the new district representation councilors have inherited this very difficult problem to solve. It is to be observed how the newly elected councilors can band together to transform Lowell into a modern city with fair and equal opportunity for all its citizens, a shining beacon that stands up for democracy in Lowell and anywhere in the world. In this 2022 – 2023 council term, it is remarkable that there are three Cambodian Americans serving together in the council. It is historic, despite disagreements. The power to change Lowell is at its highest level, if they can work together.