History of Kampuchea Krom: The Annexation of Cambodian Land by Vietnam
This article is about the history of Kampuchea Krom (Lower Cambodia or Mekong Delta) which is now South Vietnam so our history will not to be forgotten. June 4th, 2023 marks 74 years anniversary that Kampuchea Krom was lost to Vietnam.
July 12th, 1954 – a meeting in Geneva took place, where Vietnam was divided into two countries: North Democratic Republic of Vietnam & South State of Vietnam. I was born in the South in 1983, following the turmoil of the Vietnam War that took place between the North and South from 1955 to 1975. As a Khmer child, I was among millions of other Khmers whose ancestral land was taken by the French government and given to Vietnam at that Geneva Conference. My story is one of many that the government of Vietnam covered up, twisting the facts to make the world forget who we are.
It has been over 20 years since I emigrated from South Vietnam, but I have never forgotten my roots. I can still remember walking on my bare feet to a Vietnamese school in the morning, then racing to Khmer language classes at the Khmer Buddhist temple in the afternoon for two years. I remember entering the 3rd grade at a Vietnamese school, and trying to imagine what my future would hold, but there was no choice allowed but to become a Vietnamese language teacher. I would then have to teach Khmer children to speak Vietnamese, but for what reason? I couldn't understand why Khmers were treated as second-class citizens, and why having darker skin caused us to be seen as an inferior and uneducated class. I remember the feeling of anger boiling beneath my skin – I wanted to prove to them that I could achieve more than anybody else, and so I did. I was ranked 1st in my class multiple years during my elementary education, yet I could barely speak a word of Vietnamese until the 5th grade.
We were taught to sing "Em Yeu Bac Ho" (I love Bac Ho), a song claiming to love Ho Chi Minh, the fatherland.  Looking back on it now, what a slap in the face, for Vietnam to make Khmers sing a song to praise Uncle Ho. After taking our ancestral land without ever acknowledging that Khmers were the indigenous people, and after erasing our history?
To give our readers a historical context, Vietnam was once a part of China and became independent from China as the Annam territory in what is now North Vietnam around the 10th century. In around year 1400, Vietnam invaded Cham (present-day Central Vietnam) and started extending its influence over the Khmer in the South through a marriage between Cambodian King Chey Chethha II and Princess Nguyen Phuc Ngoc Van, daughter of Lord Nguyen Phuc Nguyen in 1618. The King granted the Vietnamese the rights to settle in Prey Nokor –now known as Saigon – which lead to the Vietnamese annexation of Kampuchea Krom (Mekong Delta) or "Lower Cambodia" in 1802 after a South Vietnamese prince, Nguyen Anh won a battle against the North and proclaimed himself as Gia-long Emperor, annexing the remaining Cham territories in 1832 and made Vietnam as one country.
In 1816, Emperor Gia Long ordered Thoai Ngoc Hau to arrest Khmer Krom and forced them to dig a twenty five miles canal known as "Vinh Te", which lies between Gulf of Siam and Moat Chrouk (Chau Doc) province to set a border between Kampuchea and Kampuchea Krom, in an attempt to legalize Kampuchea Krom as Vietnam's territory. Those who rebelled against the Vietnamese authority were buried alive up to the neck with their heads used to cook tea, a famous incident called "Don't spill the master's tea" (Kum pup te ong). Many more killings of Khmer Krom took place, including several fake meetings where intellectuals and scholars were called to gather in the Kleang Province then the Vietnamese authority locked up the building and burned them alive, which lead to revolts.
In 1859, lead by Sea Sous, a Khmer Krom in Khleang province battled against the Vietnamese invaders at Mahatup and Chong Ballang. The revolution went on for three years and liberated most of the areas until Sena Sous was poisoned by Vietnamese secret agent.
In the same year, Napoleon III sent a fleet and conquered Prey Nokor (now Saigon). In 1862, the Nguyen emperor had to surrender the city together with Kampuchea Krom.
French took control of the rest of Vietnam and named Tonkin for the North, Ahnam for Central, and Cochin China for the South. Cambodia and Laos later were added together called the Union of French Indochina.
During the French colonization of Kampuchea Krom, Khmer Krom entered a temporary period of stability and peace amongst millions of Vietnamese settlers.
During World War II, the Japanese invaded Vietnam, and installed Bao Dai as a puppet Emperor but allowed the French government to continue to rule Vietnam. Ho Chi Minh's guerrilla force occupied Ha Noi in 1945 and proclaimed a provisional government. The Japanese surrendered.
With Japanese withdrawal and North Vietnam becoming independent, the French government hoped to keep the South as a democratic regime. On March 8, 1949, the Élysée Accords was signed by the French President, Vincent Auriol which helped establish Cochin China as a State of Vietnam, and Bao Dai as the Head of State, without prior consultation with the Cambodian King. Alarmed by the changing status of Cochin China, a Cambodian delegation was sent to Paris to protest against this transfer that Kampuchea Krom is a disputed land that was illegally annexed by Vietnam prior to French occupation.
With the help of a group of French Representatives led by Mr. Gaston Deferre (Mr. Juglas, Abelin, Bourgnes, Maunoury, Duveau, Dumas, Rene, Pleven, and Temple), the Cambodian government delegation (H.E. Son Sann and Mr. Chhean Vam) attempted a protest against this land transfer. Representative Gaston Deferre presented a motion demanding that the French Government solve all pending questions between the protectorate of Cambodia and the colony of Cochin China before yielding that colony to Vietnam.
The motion failed. On June 4th 1949, the French President, Vincent Auriol, signed the law granting Cochin China – Kampuchea Krom – to the Bao Dai government.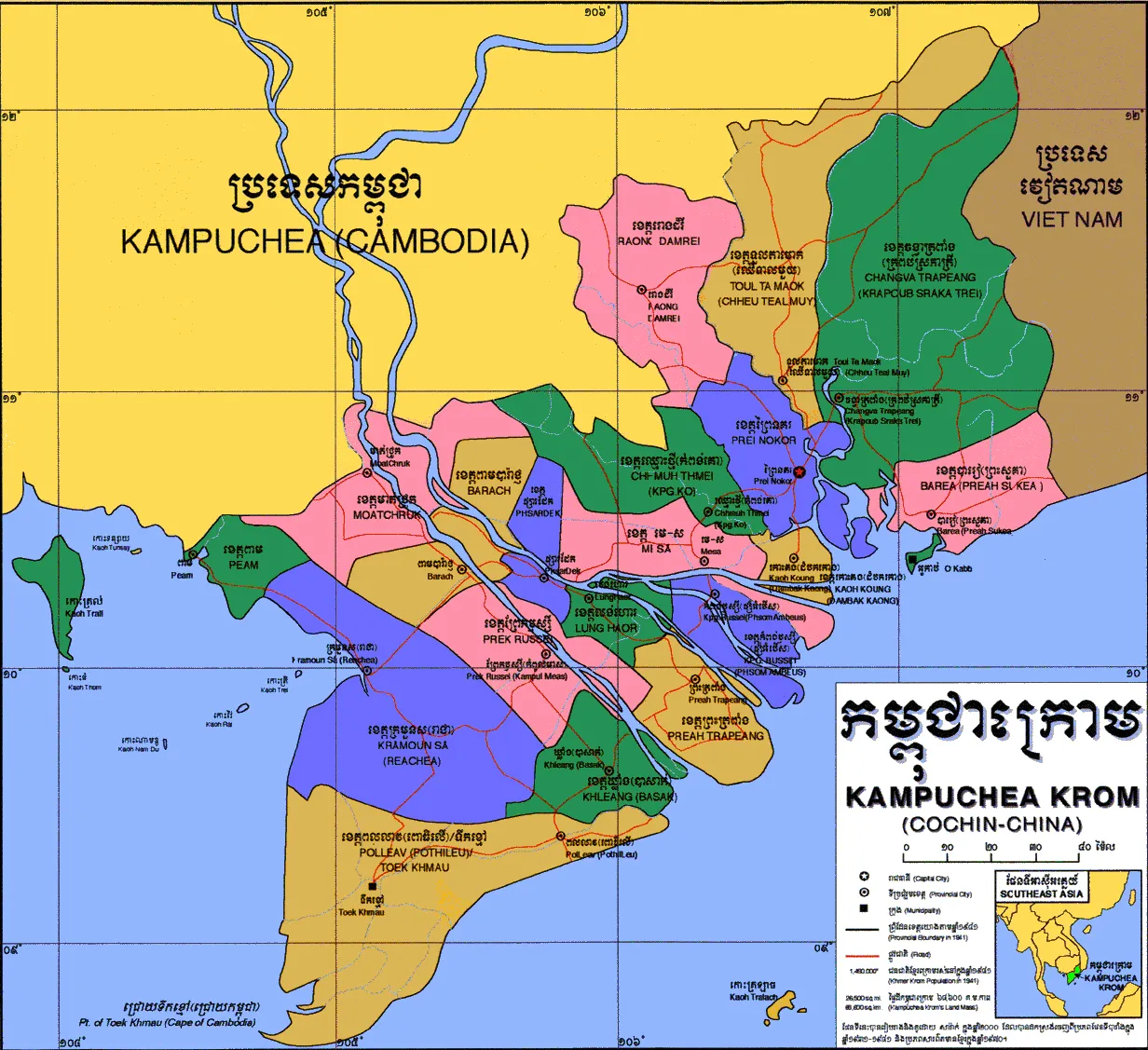 Kampuchea Krom which about a size of Britain is the rice basket for the entire Vietnam, consisted some 20 million people today with 85% of the population living in rural areas, the majority are Khmers. Kampuchea Krom originally consisted of four large provinces: DO NAI, LONG HOR, MOTH CHROUK and PEAM, later divided into smaller 21 provinces and 1 Port: Kompong Krobey (Bến Nghé). Kampuchea Krom also has two big islands: Koh Trol (Phú Quốc)and Koh Trolach (Côn Sơn).
After annexation, the Vietnamese authorities changed all the locality names of villages, districts, cities, and provinces from Khmer to Vietnamese. The list is below:
Names of Provinces, Port and Islands in Kampuchea-Krom
| | | |
| --- | --- | --- |
| | Khmer Name | Vietnamese Name |
| Provinces | ខេត្ត – Khet | Tỉnh |
| 1 | ព្រៃនគរ -Prey Nokor | Sài Gòn |
| 2 | ទួលតាមោក – Toul Tamoak | Thủ Dầu Một |
| 3 | ចង្វាត្រពាំង  – Chongva Tropeang | Biên Hòa |
| 4 | ព្រះសួគ៌ា – Preah Suorkea | Bà Rịa |
| 5 | អូកាប់ – O-Kab | Vũng Tàu |
| 6 | រោងដំរី  – Raung Domrei | Tây Ninh |
| 7 | កំពង់គោ  – Kampong Kou | Long An |
| 8 | មេស – Me Sor | Mỹ Tho |
| 9 | កោះគង Koh Kaung | Gò Công |
| 10 | កំពង់ឫស្សី  – Kampong Russey | Bến Tre |
| 11 | លង់ហោរ – Long Hor | Long Hồ |
| 12 | ផ្សារដែក – Phsa Dek | Sa Đéc |
| 13 | ព្រះត្រពាំង – Preah Trapeang | Trà Vinh |
| 14 | ព្រែកឫស្សី – Prek Russey | Cần Thơ |
| 15 | បារ៉ាជ – Barach | Long Xuyên |
| 16 | មាត់ជ្រូក – Moth Chrouk | Châu Đốc |
| 17 | ពាម – Peam | Hà Tiên |
| 18 | ក្រមួនស  – Kramoun Sor | Rạch Giá |
| 19 | ឃ្លាំង – Khleang | Sóc Trăng |
| 20 | ពលលាវ – Pol Leav | Bạc Liêu |
| 21 | ទឹកខ្មៅ  – Teuk Khmau | Cà Mau |
| Port | កំពង់ផែ   – Kompong Pe | Cảng |
| 1 | កំពង់ក្របី –   Kampong Krobey | Bến Nghé |
| Islands | កោះ – Koh | Đảo |
| 1 | កោះត្រឡាច – Koh Tralach | Côn Sơn |
| 2 | កោះត្រល់ – Koh Trol | Phú Quốc |
During this time, Khmer Krom, or Khmers of lowlands, also were forced to change their last names. The last names Thach, Son, Kien, Kim, Chau, and Danh were forced upon the Khmer-Krom people in the designated provinces as an attempt to identify and control those of Khmer origin.
For example, the Cao family name is mostly used for Khmer Krom in the Raung Domrey (Tay Ninh) province, the Dao family name in Prek Reussey (Can Tho) province, Chau (for men) and Neang (for women) family name in Moth Chrouk (Chau Doc) province, Danh family name in Kramoun Sor (Rach Gia) province, Thach, Kim, Son, Kien, family name in the provinces of Preah Trapeang (Tra Vinh), Kleang (Soc Trang), Pol Leav (Bac Lieu), and Tuek Khmau (Ca Mau). However, some last names were left alone because of the same Vietnam and Chinese ancestry such as: Ly, Diep, Lam, Tang, Nhan, Huynh, Tran, Ngo, To, Duong, Luu, etc.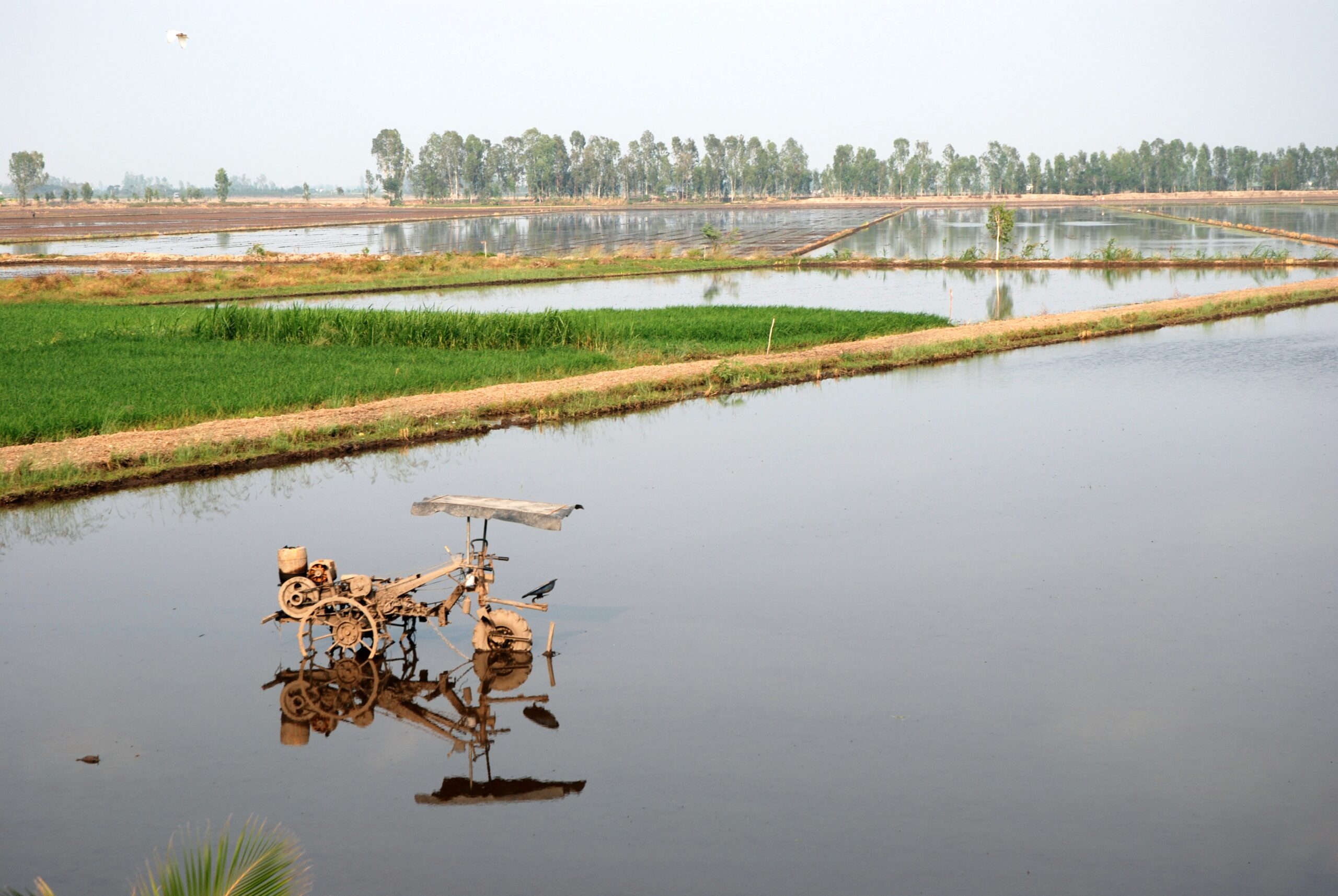 In the 1950s, with support from America, the Diem government carried out land reform which aimed to clamp down on Viet Minh guerilla forces and said "It may provide the only enduring solution to imminent problem of resettling peasant refugees from the Tonkin Delta." There still "well-known scarcity of land in one of the world's most densely populated rural areas, whereas land is relatively plentiful in South Vietnam…in conjunction with better military program than exists today and refugee resettlement it offers practicable means of bringing about restoration of law and order since assurances to peasants that they will be permitted to keep land they occupy may encourage them to cooperate with Central Government," wrote Ambassador Heath from Saigon to the United States Department on July 3, 1954.
After annexation, Kampuchea Krom's 21 provinces were further exploited by the Viet Minh, then the Diem regime which promoted North Vietnamese refugees to resettle in the Mekong Delta by giving 20-year bonds. Little to no compensation was paid to landowners. Meanwhile president Diem relocated thousands of Khmer Krom families and other ethnic minorities into the "New Economic Zone" to keep them under surveillance.
Thousands of families were relocated from Moth Chruok (Chau Doc), a Cambodian border city to a flooded rural area in Pol Leav (Bac Lieu), where there were no water irrigation system, school or hospital within reach. Many died of diseases, poverty, and for generations could not work enough money to return home. Their ancestral homes were confiscated and given to the Vietnamese.
Thousands of Khmer Krom joined the Cambodian army to fight the Vietcong force in Cambodia between 1960 – 1970s, while others joined the American MIKE Force (Mobile Strike Force Command) in the South.
Yet, the oppression on Khmer Krom continued on from one Vietnamese regime to the next, no matter which Vietnamese regime is the ruler.
On March 26, 1970, President Nguyen Van Thieu signed an ordinance, called "Người Cày Có Ruộng" (LAND TO THE TILLER). This policy took away farmland from Khmer Krom to redistribute to the Vietnamese.
In 1975, after the North won the American-Vietnamese war, Vietnam ordered the dissolution of the Khmer Krom Theravada Buddhist Association, Khmera Nikay Association. All leaders of the Khmer Krom Buddhist temples (there were over 500 temples), and thousands of the Khmer Krom people who worked for the old regime were sent to prisons called "re-education camps".
On September 24, 1982, Vietnam signed the International​ Covenant​ on​ Civil​ and​ Political​ Rights​ treaty with the United Nations. However, Khmer Krom rights activists are consistently intimidated, called in for questions, and arbitrary detained. "We cannot win by force," said Tranh Manrinh, rights advocate of Khmer Krom Federation based in the US, a collective of Khmer Krom from all over world working to raise awareness of the human rights abuses by the Vietnam government. "We must learn our lesson from the past that when that signature took place in Geneva in 1954, transferring Kampuchea Krom to Vietnam, we did not have a voice. There may be still a chance for change in the future. That's why we're making sure that we have a voice going forward."