House Asian American Caucus: "Asians Add to Diversity in the State House"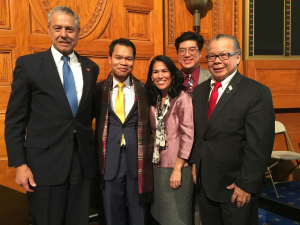 Editorial written by the Asian-American Caucus of General Court of Massachusetts:
Photo images (left to right): Paul Schmid (Westport), Rady Mom (Lowell), Keiko Orrall (Lakeville), Tackey Chan (Quincy), Donald Wong (Saugus)
In May, we celebrate Asian American and Pacific Islander's contributions to our community. Asian Americans are the single most diverse demographic in Msachusetts. They are also the fastest growing demographic with a population of 349,768, according to the United States 2010 Census. This is a 46.9% increase from 2000 to 2010 and represents 5.3% of the population. Massachusetts has a long history with Asia. Chinese were on tea ships in Salem during the colonial era and settled in Massachusetts in 1870. In 1841, the first Japanese immigrant to the United States lived in Fairhaven. Today, Lowell and Lynn are home to the second and third largest Cambodian populations in the United States. These are only a small number of examples of the many different Asian nationalities that live in Massachusetts and how they contribute to our history.
Three Asian Americans were elected to the House of Representatives in 2010 for the first time in history. Currently there are five Asian Americans in the House of Representatives. One is a Joint Committee Chairman and is an inspiration that leadership positions are possible. As a group, we originate from three different Asian countries and represent thirteen municipalities in five different counties. We recognize our differences but focus on our commonalities, working together to make our world stronger.
Forming an Asian American Caucus in the House of Representatives is a significant achievement. We are among the first of a generation. We are the first Chinese, the first Japanese, the first female, and the first and only Cambodian elected to a state or federal position in the United States. This marks incredible growth and is the beginning of increasing diversity at the State House. We believe in a bright future for Asian Americans in Massachusetts and are dedicated to helping make that happen. Each of us face our own unique struggles and are willing to share our experiences with others to show that they are not alone.
We persevere and work hard with hopes of being recognized for who we are and what we do, not the color of our skin. The House Asian American Caucus is bipartisan in representation. It is focused on celebrating our differences in culture and educating others about our different histories. It is about working hard to achieve success and overcoming barriers so we can help others broaden the diversity of the House of Representatives. The House Asian American Caucus is honored by the opportunity to represent our constituents and we are optimistic about increasing our voices in the future.
Donald Wong Tackey Chan
State Representative – 9th Essex District State Representative –Second Norfolk District
Paul Schmid Keiko Orrall
State Representative – 8th Bristol District State Representative – 12th Bristol District
Rady Mom
State Representative – 18th Middlesex District