Interview with National Bestseller Author & Screenwriter Loung Ung of First They Killed My Father: a daughter cambodia remembers

By Soben Pin
On Monday, November 18, 2019 the critically acclaimed author and screenwriter Loung Ung came to speak at the Boston's University. Her national bestselling memoir "First They Killed My Father" was published in 2001 and recently has turned into a Netflix movie, directed by Angelina Jolie has been nominated for several awards including the Golden Globe Award for Best Foreign Language Film. Her book won an award of Asian/Pacific American Librarians' Association award for Excellence in Adult Nonfiction Literature. The memoir has been translated two 15 different languages and are taught in many schools around the world.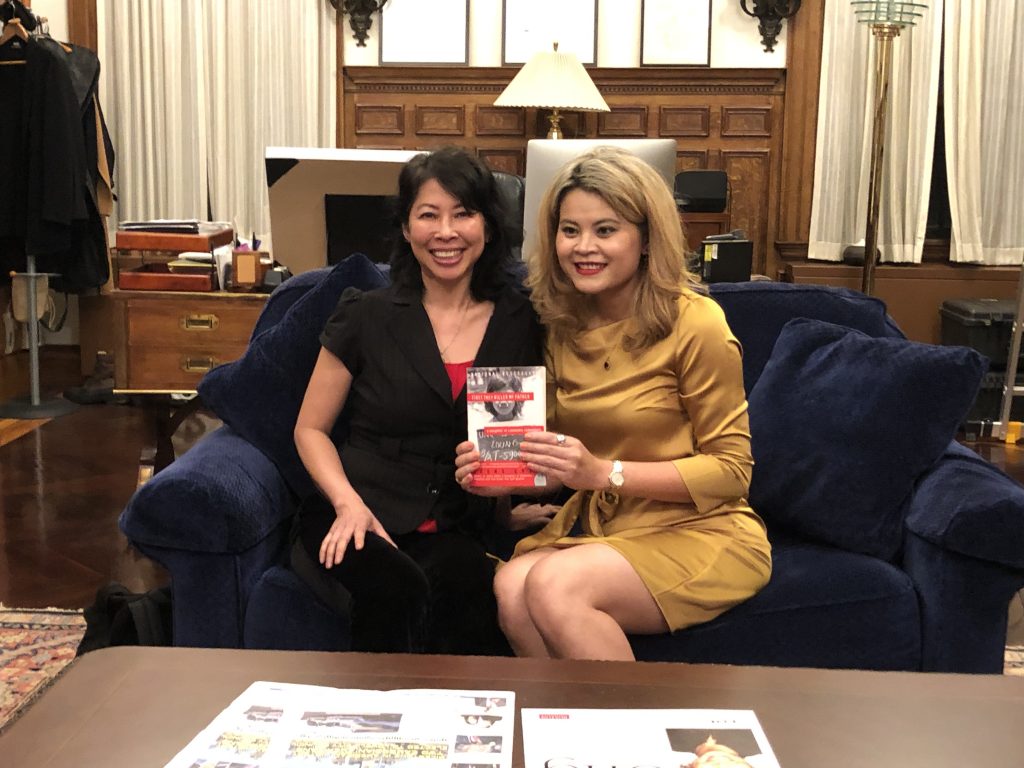 I had the pleasure to sit down one-on-one and had the conversation with her about her journey in writing this book, how life has been after publishing it, and how does she feel about the movie. Here is the transcript of our conversation from my interview which has been aired on local cable television at Lowell Telecommunication channel 8 and channel 95. Interview clip available online at: www.khmerpostusa.com
Soben: How long did he take you to finish writing this book ?
Loung: Probably a year and a half because I was working full time. I wrote in my free time, at night, evening, during weekends, and I remember, because I'm not a trained writer, I like books, I read a lot, I love books, I was working in Washington DC, as an activist to end the use of land mine in Cambodia and in the world. I didn't know I could write, but I knew I wanted to tell the story of love, my love story, to my father, to my mother, to cambodia, to my siblings. I remember just writing everyday, going to my office, working and then when I finished it, a year and half later, I walked out of my office, and it was the evening, it was beautiful, people were outside having diner, having fun, and I thought myself, this is what an evening looks like. I haven't seen one in so long! I went from working to writing, working to writing for so long, I was so happy to have my evening back.
Soben: Our audience is curious, how you have been, since you published this book. This was published almost 20 years ago, how your life has been after publishing this book?
Loung: I don't think it changed me. I might have gone a little louder, I guess I've had more opportunity to speak, but I do my work cause I believe in it, and I don't know if something change for me, maybe what people think of me? I just am really happy with who I am, I still love Khmer food, my family, I still love Srok Khmer (Cambodia),  I've been back to Srok Khmer over 40 times now! I started going back in 1995. I made my last year was my 40th trip. The book gave me so many opportunities to return.
Soben:  I was reading your book and I also watched the movie yesterday, to really try to sink in your world, as a child in Khmer Rouge camp. It's really heartbroken, and this witness of violence, trauma, death, pain in loss and hunger, an experience that no human should ever experience. My heart just cry out, how were you able to have the courage to move forward, to become bright and shine and share your share your story today, tell me how this journey has been. Were you able to come to terms with your experience, and how to enjoy life in a graceful way, tell me all this, we wanna know.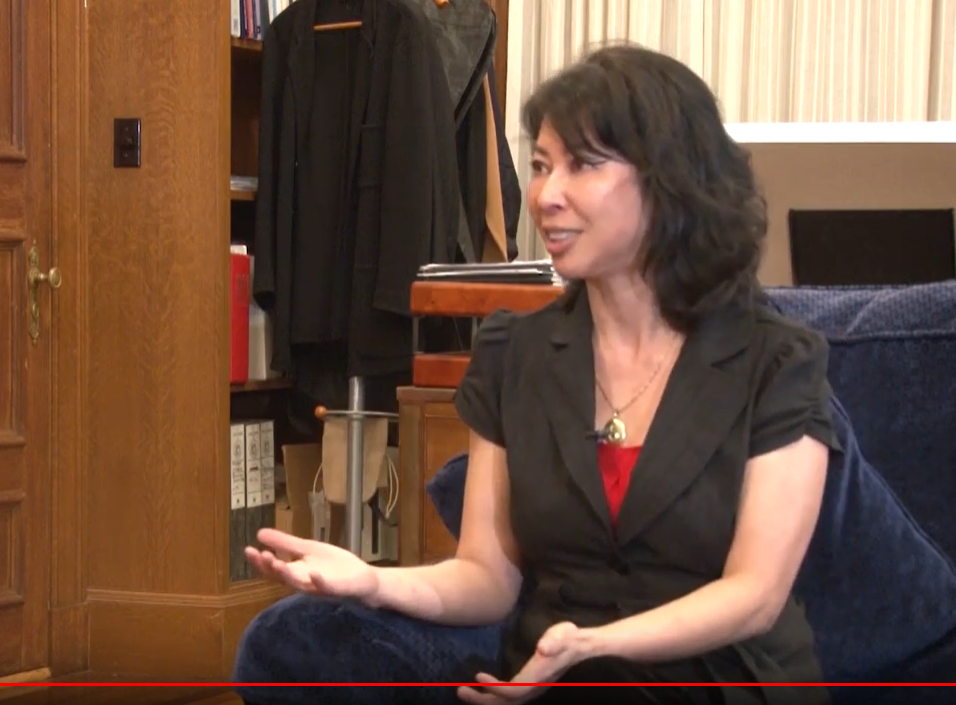 Loung: I am very fortunate. I came to america when I was 10. I arrived to Vermont, not a lot of Asian where there. My family and another were the first family in Vermont so there was not a lot of support. But I was lucky it was 2 hours and 45 min away from Lowell. So we traveled a lot to Lowell were I was supported and grew up with Cambodian family enjoying food and music, and I think that was part of what allowed me to heal in a way where I could stay embrace with Cambodia.
That was so important having a community like the one in Lowell. Otherwise if I was only myself trying to heal my trauma, and I didn't have positive rule models, experiences with Cambodian culture and music, I might have grown in a different way so I'm grateful to Lowell that I in my journey of trying to learn to write english, was also able to go to community of my country and celebrate new year, water festivals, and wedding.
I remember back in the 80 we were doing 3 days wedding ! When I got married there was a place where you could rent Khmer outfit to wear and that was very special. Having a Cambodian community near by meant a lot. It was a support for my family members, we enjoyed being part of the community. I was also blessed to go to school, make friends, and learned to keep good people in my life, and that was very important. We came from a  very artistic culture writing and storytelling, it's also art. My father was a great storyteller. If you noticed, pretty much every Khmer knows how to sing, with the exception of me. And we all dance, and we are great storyteller, I love to see in Cambodia people sitting around telling story. That was a big part of my healing as well.
Soben: That is amazing that a city like Lowell have your deep love like that. I'm sure our audience is happy to hear this.
Loung: We do have great restaurants here too and Khmer food, how my goodness, food is a big part of my healing. I remember going to the store from Cambodian community and get food with my family, it and that was really healing, being able to have that.
Soben: So now, your book has turned to one of the most well made documentary film for Netflix, by Angelina Jolie, I was really worried before reading the book or seeing it the film, I didn't have the courage to face it. As I've done it, I felt like nobody can understand what happened to Cambodia without reading the book those who never been there. With seeing the film, it was mostly the reflected the book. You as a true living character in that story, do you feel that the film reflected you well ?
Loung: Yes, Angelina and I have been friends for close to 20 years. She was in Cambodia in 1999, filming Tomb Raiders, and then she read my book when it came out in 2000 and then called me up. We have been friends every since. I knew going into it wasn't just not turning my book into a film, I knew going into that I was working with someone that loves everything about Cambodia, who wanted to tell the story of Cambodia through the lenses of love and families, resiliency and poetry.
I was very happy that she knew the book so well and she knew me so well, she knew what was important to me, to honor my mother and father, the spirit of my sisters who died, and the spirits of the two million people who died. She wanted to honor and remember Cambodia,  to share the beauty and the darkness of Cambodia with the world, so I believed, we did it. We were also so happy to work with all the Cambodia cast, it was never been done before for a movie of this size to work close to twenty thousand Khmer extras, and most Cambodian video crew, artist, put their DNA into this movie. Which was really wonderful. 
Soben: I did see your character, Chu, Kim and all the others. The story of family love and survival in your book just touched the readers to the core; how do you think your message in this book in contrasting to Pol Pot and what he thinks  his love for the country when he committed these crimes?
Loung: The great contrast, Pol Pot led with fear, Pol Pot wanted to create a Cambodia that was brought back to year zero, he wanted to create a nation where people didn't have a voice and power, they didn't have control of their own life. They forbade personal and familial relationship, falling love was a crime against the state during the Khmer Rouge. How do you make love a crime ? With my book, I want to make love a source of inspiration, I want love in my book to be real, family and history and for each other, it should no way be anything you are ashamed of.
Soben: I think you are such a great writer. I wrote certain passage when I was reading, the way you express it is just miracle, like this one for example. « Labor camp – page 73, Struggle to receive love from my brother when all around me is hate ». How did you find the strengths put all these words out?
Loung: Before I sat down to write the book, I returned to Cambodia on the 7th trip and did a lot of research, read a lot of book, watched a lot of documentaries, went back to places my family went to to walk in the land and remember with my body and spirit, not just in my memories, and then I interviewed so many people, my grandmother as well, and I remember it was painful, I can make myself remember thing and write it down but to ask question and having the reacting is different.
I remember watching my grandmother answering a question about her story and daughter who die, my mother, and when she was talking, tears run down her face, and she didn't wipe her eyes, just let her tears drip and then she was rubbing her heart with her right hand, the whole time she was talking. And when I was writing I wanted to honor that. I talked to my mom best friend, my brothers, sisters, and I talked to my neighbors, so many people and they all had these strong reaction, and when I sat down to write I was aware that I had to honor what they were living through to tell me their story, and I could not get that wrong. It was difficult for me, but not only me, my story is not unique. 5 million Cambodians survived. It's a collective trauma we are all trying to heal from. So I had to honor all of these stories.
Soben:  I think every words, every page you did it, and it's so great that you continue to be involved with the land mines and everything else. Do you think as child soldier, you were there, you had had the experience, you think that's what drawn you to be in the campaign for land mines ?
Loung: When we left Cambodia in 1980, there were 2 ways out, walk on the land which we knew had land mines, to go to Thailand where there was refugee camp, or taking the safer route, to get buy seats on a boat to Vietnam that was safer. Because of that my family were again separated. In the war, the Khmer Rouge killed 4 of my immediate family members, both of my parents and 2 sisters. After the war in search for a better life, we chose to leave by the safer way, but in order to do that we left three more siblings behind, my brothers and sister still lives in Cambodia to this day and so our family wanted to be together but it wasn't safe so we separated.
I think a lot about it and I've gone back to Cambodia many times, and to walk on these beautiful lands, Cambodia is so beautiful, when I look at Cambodia, my eyes feel full.
Yet, to know that there is millions of land mines still in the ground, hurting people after the Khmer Rouge stopped killing parents, making children orphans and taking children from their parents, an average of 500 people got killed every single month by the land mines.
After you just survived this horrible genocide, because of land mine you are having a hard time to survive the peace.
Now 30 years later of being involved in various of different groups in this kind of work, I realize peace is not something you wait, wish or that is gonna be granted, peace is an act, what we want in our life, our world, our community, in Lowell, we have to act. Peace is an action, not a wish.
Soben: This was wonderful, you are such a great writer, tell us about your other book.
Loung: I'm writing another book called "Arp" inspired of the Khmer mythology, it's a fiction, and it takes place in Cambodia. « First they killed my father » was about what it takes to survive the war, and then in the years later I published « Lucky child » about what it takes to survive the peace, long after every body tell you the war is over but it's still existing in your dreams, nightmare, in your body. I later published « Lulu in the sky », which is what it takes to go from surviving to thriving, from hurt to health, from being fear in love to falling in love, and also what it takes to be fearful and then return to Cambodia.