Lowell Held a Community Vigil Honoring Lives Lost During the Covid-19 Pandemic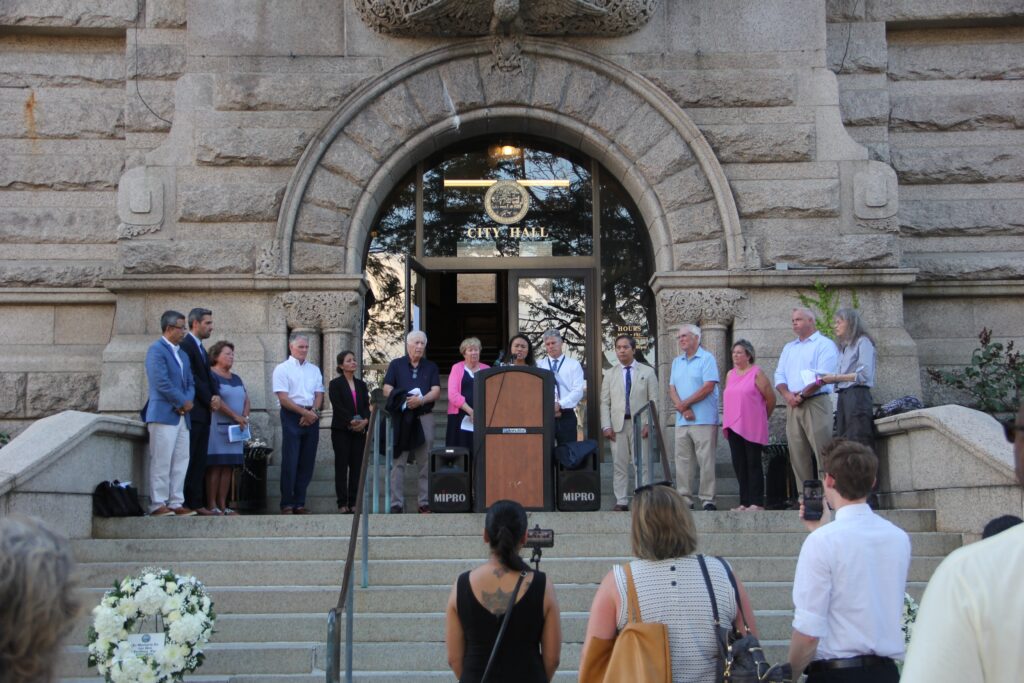 Lowell City Hall held a community vigil to honor the lives lost during the Covid-19 pandemic on Tuesday evening, June 29, 2021. White flags were displayed on the ground, attended by nearly 100 people included many community leaders and local elected officials. Present were Mayor John Leahy, Vice Chair Rita Mercier, City Manager Eilene Donoghue, State Representative Vanna Howard, also present were councilors Sokhary Chau, David Conway, John Drinkwater, Rodney Elliott, Vesna Nuon, Daniel Rourke, and William Samaras. Amongst distinguished guests were Celeste Bernardo, Lowell National Park Superintendent and Lowell Public School Superintendent Joe Boyd.
Speaking engagement were made by Dr. Kumble Regesh of Lowell Community Health Center, Sara Khun Leng, Deputy District Director for the Office of Congresswoman Lori Trahan who shared the lost of her parents to Covid-19 last year. Speaking emotionally, Sara shared the memories of her parents, and like many other covid-19 victim families, the inability to be by their side when their love ones taking the last breath. Sara said "live like there no promise of tomorrow" and "be graceful to let things go that don't mean for you". Next, UMass Lowell Campus Minister Imogene Stulken lead a moment of silence to remember the lives that were lost. She said that if counting a second per person lost to Covid, it would take 5 and half minutes. City of Lowell lost over 300 people to the Covid-19 pandemic. Her message was "be gentle to yourself" when things don't go alright around you.
Lastly, Mayor Leahy presented an award to Jo-Ann Keegan, a retired nurse who returned to work and lead the Covid-19 crisis for the city of Lowell. In closing, "Amazing Grace" was performed by Tenesha Scarlett.