Lowell's first Cambodian Dentist Dr. Sambath Keo Passed Away on September 20, 2020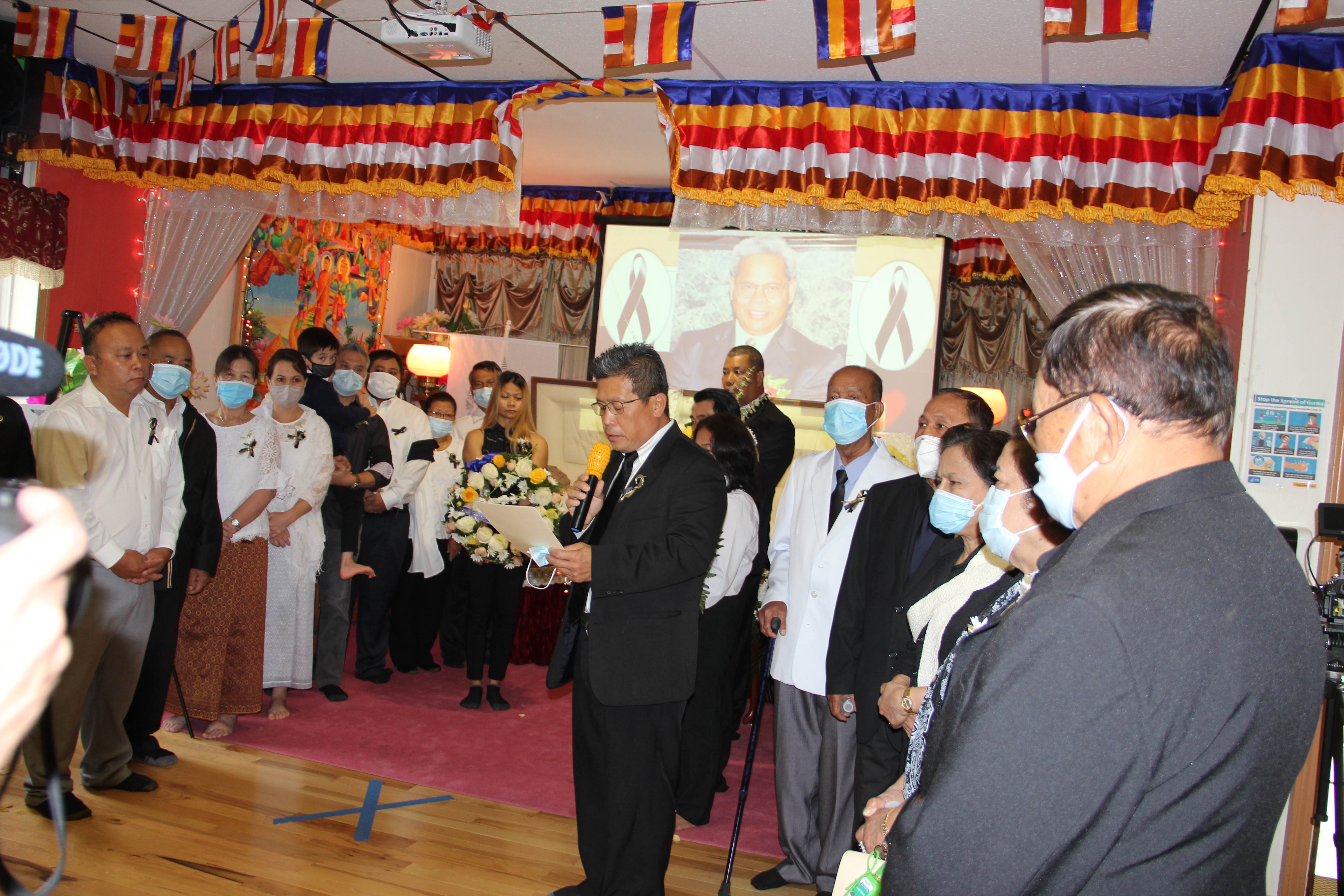 By Soben Pin | Facebook/Twitter@SobenPin
The Cambodian community-at-large mourns the lost of one of the founding members of the Cambodian community in Lowell Dr. Sambath Keo. He was born on March 21, 1942 in Takeo province, Cambodia and passed away peacefully at home surrounded by his family on September 20, 2020, due to long-term illness, at his residence in North Chelmsford, Massachusetts.
Dr. Keo survived The Killing Field and fled to a refugee camp along the Khmer-Thai border and participated in The Freedom Fighter Movement. He came to the United States on February 6, 1981 and became a U.S. Citizen on July 3, 1986.
Prior to the arrival of the Khmer Rouge, Dr. Sambath Keo worked as Dentist. After immigrating to America, he continued his study at Washington University in St. Louis, Missouri. In 1989, he opened a dental practice in Lowell becoming the first Cambodian dental office to serve the first wave of Cambodian refugees to Lowell. The dental still remains open today at 50 Wood Street, Lowell, Massachusetts.
Surrounded by friends and family members near and far. Dr. Keo was known for his relentless fight to bring democracy to Cambodia and protected Cambodian land from its neighbors by being a part of the Cambodian Border Committee.
In 2006, after the creation of the Cambodian Human Rights Party, headed by Mr. Kem Sokha. Dr. Keo was appointed as a senior law advisor. In 2008, he went to Cambodia and helped to launch the Human Rights Party and was elected to serve as a Member of Parliament for the Phnom Penh District, Cambodia in 2013.
Locally, he also was very active and served as a board member of many organizations including the Cambodian Mutual Assistant Association, Cambodian Network Council, Trairatanaram Temple, Inc., Cambodian Voter League of Lowell, Cambodian American Student, and the Cambodian Survivor Association.
He is also founding member of Pannasastra University of Cambodia which still standing today.
Many notable guests attended his funeral service which was held at the Dolan funeral home in N. Chelmsford, followed by two days of service at the Trairatanaram Temple before going to the Crematorium.
Guests attended including human rights activist from Canada, Philadelphia, and Massachusetts as well as parliamentary member from Cambodia H.E. Madam Mu Sochua who is the Vital Voices Human Rights Global Leadership Award recipient in 2005 and H.E. Eng Chai Eang, a high ranking official from Mr. Sam Rainsy.
Member of parliament H.E. Cheang Ngor read personal condolences from CNRP president Kem Sokha who still under house arrest in Cambodia. Joined by others who knew and remembered Dr, Keo Sambath. He is a role model and a hero to the next generation of Cambodian leaders in Lowell and beyond.
Congresswoman Lori Trahan issued a Congressional Proclamation recognizing his human rights advocacy work. It is the highest congressional recognition for a passing Cambodian community member in the U.S. Dr. Keo was remembered as a father, a community leader, and a member of parliament serving Cambodia from 2013 – 2017 until the dissolution of the opposition party, CNRP by Prime Minister Hun Sen. Dr. Keo last wishes were two things according to his wife of 33 years "that he wanted to see the ending conflict of the Trairatanaram Temple (Lowell's famous and longest lawsuits that went more than 15 years about the Upstairs and Downstairs temple in N. Chelmsford) and that Prime Minister Hun Sen will loose his power and let Cambodia be truly a free and democratic country. But unfortunately, he lost the battle. He didn't live to see the Cambodian Prime Minister Hun Sen lost his power", said Mrs. Sokhem Vong.
His eldest son Dr. Doungvannak Keo from Florida spoke on behalf of the family "He's a person who has a great heart. Always willing to help others. We as the family will try to continue his legacy that he passed on to the younger generations, especially all his kids and grandkids ". As a father, he was very principled, as a friend, the closest ones got bossed around, and as a leader, he is tough. In his final days in bed, attended by his wife, said he listens to Khmer radio all day. There were times he remembers, other time he went in sleep. Yet still wishing for his country to achieve its full freedom that was all in his mind" said she.
Dr. Keo Sambath is survived by his wife, Mrs. Sokhem Vong, and 9 children Nissay Keo, Pychey Rin, Lun Keo, Saudaneth Keo, Phodavine Keo, Sovicheth Keo, Dr. Duongvannak Keo, Dr. Phanith Keo, and Nolinne  Keo and 10 grandchildren and many nieces and nephews.