Vietnamese Authorities Unlawfully Detained Khmer Krom Rights Activists
Tra Vinh, Vietnam – Vietnamese authorities have unlawfully detained three ethnic Khmer Krom (Cambodian) rights activists on July 31 alleging that they are "abusing democratic freedoms to infringe upon the interests of the State, lawful rights, and interests of organizations and/or citizens." The activists Thach Cuong, To Hoang Choung, and Danh Minh Quang are the representatives of the Khmer Krom people who have held meetings with UN representative and were often seen distributing the UN Declaration of the Rights of the Indigenous People Handbook to the Khmer people in his village.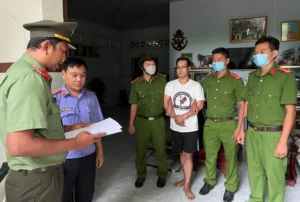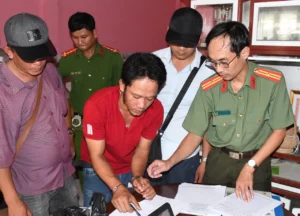 Cuong Thach (left) and To Hoang Choung (right) were arrested by Vietnamese authorities in Tra Vinh (Preah Trapeang) Province on July 31, 2023
For months prior to the arrest, Vietnamese authorities were constantly harassing Thach and his fellow men, calling them in for questioning, unlawfully detaining, beating, and confiscating the UNDRIP handbooks. According to a statement released by Khmer Krom Federation, a human rights advocate organization which stated the "inhumane treatment inflicted upon Khmer Krom activist To Hong Chung by the police of Soc Trang province. This reprehensible incident took place on June 23, 2023, when Mr. Chung and his fellow activists from Tra Vinh province visited Mr. Lam Vong, who had endured arrest, detention, and torture by the Soc Trang police before his release on June 20, following 33 hours of unjust captivity." Chung was forced to sign a confession after five and a half hours of interrogation and torture before being released.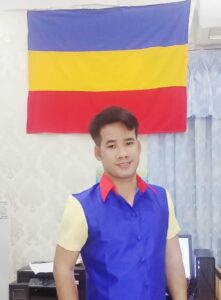 In a live video on June 24, Thach Cuong, the youth group leader who has a large social media following of 14,000+, asked for support from Khmer Krom living abroad, to be aware of beatings the three activists said, "they can beat us in a dark room this time, next time they will kill us." He requested urgent support from the Khmer Kampuchea Krom Federation (KKF), warning of the critical situation before he and other activists were arrested.
The arrest came after the group commemorated the 74 years since the illegal annexation of the Cambodian territory to Vietnam, by holding a Kampuchea Krom flag and wearing a T-shirt with Kampuchea Krom map. It is a history that Vietnam continues to hide from the international community and have tried for decades to erase the history of the Cambodian Mekong Delta.
In a statement the KKF "strongly condemns Vietnam's use of Article 331 to criminalize Khmer Krom activists for exercising their right to freedom of expression as indigenous peoples of the Mekong Delta. These activists are merely standing up for their fundamental rights, and their arrest blatantly violates their rights to advocate for their community's interest.
We urgently call upon the Vietnamese government to immediately release Thach Cuong, To Hoang Chuong, and Danh Minh Quang without any condition. Vietnam must respect its obligations as a member of the Human Rights Council to uphold and protect the fundamental rights of its citizens, including those of the Khmer Krom community."
According to a report by Human Rights Watch, Vietnam held more 150 political prisoners for exercising their basic rights. "Rights bloggers and activists face police harassment, intimidation, surveillance, and interrogation on a daily basis. Activists face long stints of pre-trial detention, without access to lawyers or family in a one-party police state that tolerates no dissent," wrote the report.
The Khmer Krom community will gather in a rally on August 21, 2023 in front of the Vietnam Embassy in Washington D.C.