Fostering a Socially Connected Community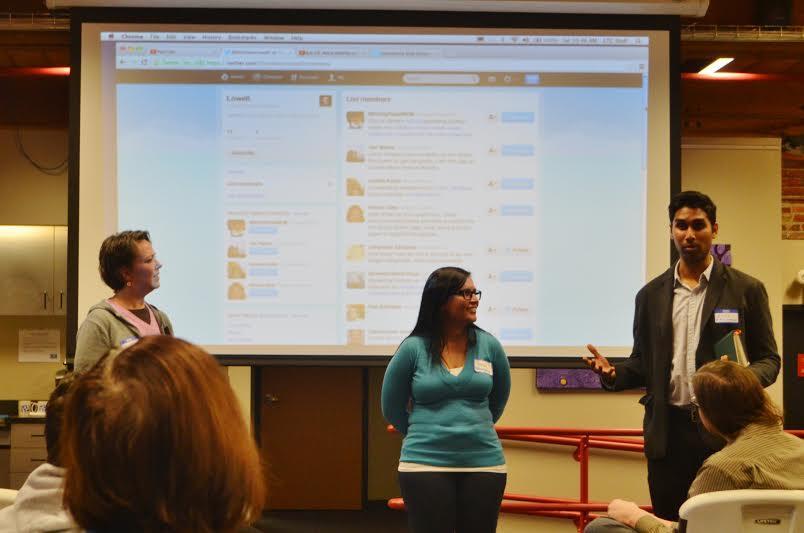 1st Annual Lowell Social Media Conference
By James Ostis
Towards the tail end of the lively three hour discussion, Dick Howe wondered if the first ever Lowell Social Media Conference should have maybe had a different name.  "Maybe we should have dropped a word and just called it the Lowell Social conference, because ultimately we're just talking about the ways people connect with each other."  For a group of over 50 onlookers at LTC Lowell, the morning of December 7th was all about making those community connections.
The Lowell Social Media Conference was the brainchild of Dick Howe, Registrar of Deeds, KhmerPostUSA contributor, and founder of richardhowe.com, the area's prominent "hyperlocal" blog focused on Lowell politics, history, and news.  The conference was divided in four segments and centered on the ways individuals and organizations can best utilize social media for the purposes of community engagement.
The first two panels were more technical in nature.  Yovani Baez, Emil Kuruvilla, and Liz Smith talked about the variety of ways to use Twitter both personally and professionally.  A second group featuring Danielle McFadden, Caroline Gallagher, Phil Lupsievicz, and Jessica Wilson discussed the power of web-based video.  Wilson, who hosted the event as the executive director of LTC noted that the #1 most-viewed video on LTC's youtube channel is Angkor Dance Troupe's presentation of Apsara Dancing Stones.
The second half of the program shifted from the technical side to the discussion of impact and strategies.  Lowell city council candidates Derek Mitchell and Danny Rourke talked about how they used social media in their campaigns.  Both candidates said that social media was an effective tool in some aspects but not enough to replace traditional media and direct voter contact.
For the event's final hour, all attendees were invited to participate in a conversation about community engagement.  Former Lowell High School Headmaster and Lowell City Councilor-Elect, William "Bill" Samaras spoke during this segment about the importance of reaching people "where they are" by going into their neighborhoods and existing social networks. Soben Pin, managing partner of the KhmerPost, spoke during this portion about how the newspaper uses that approach in connecting with the Cambodian community in Lowell and beyond.
Conference organizers considered the session very successful and asked participants to continue to remain involved in using social media and other methods to strengthen the sense of community in Lowell.  KhmerPost is also engaging  in this community discussion.  You can now follow KhmerPostUSA on Twitter at @KhmerPostUSA and like KhmerPostUSA on facebook.