HEALTH CENTER WINS ASIAN HERITAGE AWARD
 The Lowell Community Health Center will be honored at a gala commemorating Asian Pacific American Heritage Month in Lowell on May 18. Center CEO Susan Levine will accept the award at the special event sponsored by KhmerPost USA, a free biweekly Cambodian and English newspaper.  Publisher Soben Pin, who has organized the gala each year in May, said that the Health Center "is a model for other organizations in terms of their organizational diversity and their commitment, demonstrated every day, to meet the needs of all patients and families."
The gala, with a theme of "Bridging Cultures," will be held on Friday, May 18, from 5:30 to 10:00 PM at Lenzi's, 810 Merrimack Avenue in Dracut.  The event includes cocktails and hors d'oeuvres outside, dinner, live music, and a performance by the Angkor Dance Troupe.  Sponsorships and tickets are available by calling 978-677-7163, or online at https://khmerpostusa.com/2018-gala.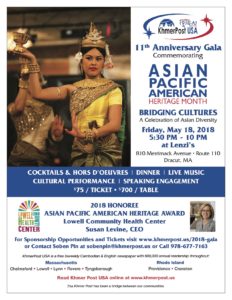 Lowell Community Health Center (LCHC) serves approximately half of Lowell's population.  A majority of patients and families live in poverty, and almost a half speak a language other than English. Services include primary care, health screenings, nutrition, OB/family planning, pediatrics, office-based addiction treatment,  school-based health, health insurance enrollment, pharmacy, youth programs, HIV services, behavioral health care, and the unique "East-Meets-West" Metta Center.  The Center has recently expanded to include dental and vision services.
 LCHC has been recognized by the federal Office of Minority Health for delivery of culturally competent care.  "This is an organization that is an example for other agencies and companies," Pin said. "Not only is their staff very diverse in terms of culture and language, but the services they offer meet the real needs of patients and families.  We honor them as a beacon for others to follow."
 Noting that Asian Pacific American (APA) Heritage Month events are being held nationwide during May, Pin said that the recognition month is meant to celebrate the achievements of Asian Pacific Americans, as well as to organize for the challenges ahead.  She said that the activities bring together Asian Pacific Americans who come from many different countries and backgrounds.  "Although most people don't distinguish among people they perceive as 'Asian,' we are in fact a very diverse group in terms of cultural, social, economic, educational, health, language, and history," she said.  "The effort never ends to explore who we are now and to define our place in America."
About KhmerPost USA
Found in 2007 by Soben Pin and partner Roger Pin. With demand of readership in Massachusetts, KhmerPost USA has relocated to Lowell in 2010. KhmerPost USA prints biweekly Cambodian-English free newspaper serving Lowell, Chelmsford, Tyngsboro, Lynn, Revere, Cranston and Providence, Rhode Island. With an annual of 600,000 readership, KhmerPost USA is the only premier voice for the Cambodian American community across the New England region. Because the Cambodian ethnic group is the majority minority in Lowell, we feel KhmerPost USA must take the leadership role in observing this important APA Heritage Month as part of national efforts to help educate our community about the diversity.