Healthy Eating for Lowell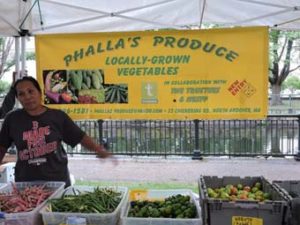 by Soben Pin | sobenpin@khmerpostusa.com
Healthy eating has become one of the main concerns in urban families. As the food chains are trying to promote more organic labels in their supermarkets in recent years, New Entry Sustainable Farming Program has been launched in 1998 in Lowell by Tufts University's Friedman School of Nutrition Science and Policy. The purpose of this program
was to help recent immigrants and refugees with farming backgrounds to integrate their new lives into Massachusetts agriculture. Farmers would receive training and get land access through partnership with local, state, and national organizations.
Many Cambodian refugee families have signed up for this program. Phalla Noel of North Andover, who took over farming business after her late father, says she learned to like farming by working with her father in the last decade. It has helped to secure her family members job even it remains seasonal.
She received training about land use, how to grow vegetables and where to market her produce.
Phalla grows at least 60 different kind of vegetables many of which are preferred food for Cambodian/ Asian. Not only people like Phalla are able to grow Cambodian culturally appropriate food, but many other members of Lowell diverse community are also participate in this program. You can meet them at Lowell's Farmer market every Friday from July through October at Lucy Larcom Park, 258 Merrimack Street 12 – 5pm.
Urban families can have access to affordable locally grown organic fruits and vegetables for nearly 4 months. These vendors accept major credit cards, WIC, SNAP/EBT, and senior coupons. The Lowell Farmer's Market is sponsored by the Community Teamwork and authorized by the Department of Agriculture. "We are looking to grow our program next year. Expect to see more music, more activities for kids such as art and crafts at Lucy Larcome Park or people can just come to lunch and do some shopping" says Susan Brittain.
If you are already in farming business and interested in becoming a produce vendor at the Lowell's Farmer market next year, you will have time till June 2018 to submit application and all required supporting documents. To get them you can visit Susan Brittain's office at 45 Kirk Street, 2nd floor, Lowell, call her at 978-654 -4905 or download from www.commteam.org /farmers-market.